Featured Programs
Sponsored Schools
Nursing Career Info
Featured Article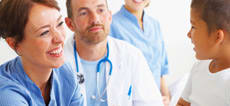 Demand for Nurses
Nurses may be the most in-demand health care position in the country.
Anatomy
Anatomy is a scientific study concerned with the structure of living things. While a great amount of information is available about the anatomy human, anatomy is a general term that also covers all plants and animals as well. Anatomy is usually divided into gross anatomy or microscopic anatomy (although for the purposes of this article, we are organizing it into human, animal, and plant anatomy and providing both gross and microscopic anatomy for each section). Gross anatomy is the study of anatomical structures that are visible by the naked eye while microscopic anatomy is the study of anatomical structures aided with microscopes. The study of anatomy began at least as early as 1600 BCE in Egypt with the
Edwin Smith Papyrus
, which shows the heart and its vessels, among other human organs. Since then, it has been studied across a variety of different cultures, from ancient Greece and Rome, through the Medieval period (thanks to the help of Muslim physicians and scientists), and still studied by large amount of modern cultures and society. A huge contribution to the study of anatomy occurred in 1858 when Henry Gray published
Anatomy: Descriptive and Surgical
. In the past hundred years, anatomical research has reaped the benefits of technological developments and a growing understanding of sciences such as evolutionary and molecular biology. While there is still much to be learned of various anatomical structures, the rate at which we are learning appears to be increasing exponentially.
Human Anatomy
Human anatomy is the most universally taught anatomical study. Physicians, dentists, physiotherapists, nurses, paramedics, and radiographers all study human anatomy, the pillar of medical science. Not only is human anatomy studied for science, it is often a topic of study for visual arts when drawing a human figure, particularly basic concepts of how muscles and bones function and deform with movement. In an effort to improve his art by better understanding human anatomy, Leonardo da Vinci advanced both human anatomy and its representation in art. While the definition of human anatomy is the study of structure within the human body, it often becomes necessary to explain the function in order to understand structure.
Animal Anatomy
All animals have the following similarities: They digest food, perform a gas exchange, excrete waste, circulate nutrient and waste products to and from cells, coordinate movements, defend themselves, and reproduce and disperse their species. Some species have complex organ system to perform these functions while others have specialized tissues that complete these functions. Understanding animal anatomy helps scientists better understand evolution and how different species (and regulatory systems) came to be. Not only is animal anatomy important to those studying evolution or specializing in a particular species, it is a necessity for veterinarians and those involved with animal care.
Plant Anatomy
Also known as phytotomy, plant anatomy is the study of the internal structure of plants. It originally included plant morphology, the description of the external structure of plants; however, they are now considered separate fields of study. Current research trends in plant anatomy are now studied at the cellular level, using tissue cross-sections and microscopy. Plant anatomy is usually divided into six categories: Flower anatomy, leaf anatomy, stem anatomy, fruit/seed anatomy, wood anatomy, and root anatomy. While plant anatomy often doesn't receive as much emphasis or importance as animal or human anatomy, it has a huge place in botanical research. 

Top Nursing Colleges
Purdue University Global - Certification, Associate's & Bachelor's Degree.
A Bachelor of Science in Nursing degree could help registered nurses (RNs) seek broader professional responsibilities and career opportunities. If you are an RN and want to advance your career, Purdue Global's online Bachelor of Science in Nursing completion program could help you pursue new opportunities in specialized nursing and nursing management.

Grand Canyon University - B.S. in Nursing (Registered Nurse - B.S.N.)
Grand Canyon University is accredited by the Higher Learning Commission, and offers nursing degrees at affordable prices. Grand Canyon University allows students to practice what they learn with hands on teaching methods.

Liberty University - Master's Degree.
Liberty University is one of the most respected names in online colleges and provides a variety of online degree plans, including a MSN program. Liberty University makes it possible to earn your entire nursing degree online.

Sponsored Schools