Featured Programs
Sponsored Schools
Nursing Career Info
Featured Article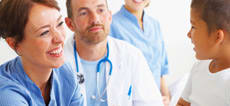 Demand for Nurses
Nurses may be the most in-demand health care position in the country.
Nursing School Accreditation
Accreditation is a voluntary, self-regulatory process by which non-governmental associations recognize educational institutions or programs that have been found to meet or exceed standards and criteria for educational quality. When embarking on your nursing career, it is essential that you seek out only accredited schools to pursue your education. This will ensure that any coursework, diplomas, or degrees earned will be legitimately recognized by prospective healthcare employers, graduate schools, and nursing professional organizations.
Currently, there are two nationally recognized accreditation organizations for nursing:
NLNAC – National League of Nursing Accrediting Commission
Recognized by the U.S. Department of Education as the national accrediting body for all types of nursing education programs.
CCNE – Commission on Collegiate Nursing Education
An autonomous accrediting agency contributing to the improvement of the public's health. CCNE ensures the quality and integrity of baccalaureate and graduate education programs preparing effective nurses.
As a voluntary, self-regulatory process, CCNE accreditation supports and encourages continuing self-assessment by nursing education programs and the continuing growth and improvement of collegiate professional education.
Accreditation also assists in the further improvement of the institutions or programs as related to resources, processes, and results. The monitoring of certificate, diploma, and degree offerings is tied closely to state examination and licensing rules, and to the oversight of preparation for work in the profession. Although schools that have been accredited by either organization are acceptable, look for those that have dual accreditation whenever possible.
Top Nursing Colleges
Purdue University Global - Certification, Associate's & Bachelor's Degree.
A Bachelor of Science in Nursing degree could help registered nurses (RNs) seek broader professional responsibilities and career opportunities. If you are an RN and want to advance your career, Purdue Global's online Bachelor of Science in Nursing completion program could help you pursue new opportunities in specialized nursing and nursing management.

Grand Canyon University - B.S. in Nursing (Registered Nurse - B.S.N.)
Grand Canyon University is accredited by the Higher Learning Commission, and offers nursing degrees at affordable prices. Grand Canyon University allows students to practice what they learn with hands on teaching methods.

Liberty University - Master's Degree.
Liberty University is one of the most respected names in online colleges and provides a variety of online degree plans, including a MSN program. Liberty University makes it possible to earn your entire nursing degree online.

Sponsored Schools