Featured Programs
Sponsored Schools
Nursing Career Info
Featured Article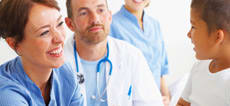 Demand for Nurses
Nurses may be the most in-demand health care position in the country.
Nursing Shortage
Nursing is the nation's hottest job and that status is unlikely to change for at least a decade, according to new government employment statistics.
The U.S. Bureau of Labor Statistics (BLS) recently reported that registered nurses were number one on the list of 10 occupations with the largest projected job growth for the years 2002 to 2012. Although RNs ranked among the top 10 growth occupations in the past, this marks the first time in recent history that RNs have topped the list.
An aging U.S. population along with increased demand for nursing care have both contributed to the growth in nursing jobs. Another contributing factor is many nurses currently working will be retiring creating even more nursing job opportunities.
There will be more than 2.9 million RNs employed in 2012, up by 623,000 from the nearly 2.3 million RNs working in 2002, according to the BLS report. Despite the projected growth in the number of employed RNs during the next decade, demand will continue to outstrip supply by a wide margin.
Top Nursing Colleges
Purdue University Global - Certification, Associate's & Bachelor's Degree.
A Bachelor of Science in Nursing degree could help registered nurses (RNs) seek broader professional responsibilities and career opportunities. If you are an RN and want to advance your career, Purdue Global's online Bachelor of Science in Nursing completion program could help you pursue new opportunities in specialized nursing and nursing management.

Grand Canyon University - B.S. in Nursing (Registered Nurse - B.S.N.)
Grand Canyon University is accredited by the Higher Learning Commission, and offers nursing degrees at affordable prices. Grand Canyon University allows students to practice what they learn with hands on teaching methods.

Liberty University - Master's Degree.
Liberty University is one of the most respected names in online colleges and provides a variety of online degree plans, including a MSN program. Liberty University makes it possible to earn your entire nursing degree online.

Sponsored Schools