Featured Programs
Sponsored Schools
Nursing Career Info
Featured Article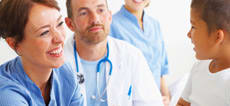 Demand for Nurses
Nurses may be the most in-demand health care position in the country.
Types of Nurses
Nurses generally fall into several main groups, depending on where they work: in hospitals, in private practice, in private homes, etc.
Hospital Nurses
Hospital nurses, the largest group, are staff nurses who provide bedside nursing care and carry out the medical regimen prescribed by physicians. They also supervise licensed practical nurses and aides. Hospital nurses are typically assigned to one area such as surgery, maternity, pediatrics, emergency, ICU, or oncology, but they sometimes rotate among departments.
Office Nurses
Office nurses care for outpatients in physicians' offices, clinics, and emergency medical centers. They assist with examinations, administer injections and medications, dress wounds and incisions, assist with minor surgery, and maintain records. Some also perform routine laboratory and office work.
Nursing Home Nurses
Nurses who work in nursing homes manage manage care for residents with conditions ranging from a fracture to Alzheimer's disease. Although they often spend much of their time on administrative and supervisory tasks, nursing home nurses also assess residents' health, develop treatment plans, supervise licensed practical nurses and nursing aides, and perform invasive procedures, such as starting intravenous fluids. They also work in specialty-care departments, such as long-term rehabilitation units for patients with strokes and head injuries.
Public Health Nurses
Public health nurses work in government and private agencies, including clinics, schools, retirement communities, and other community settings. They focus on populations, working with individuals, groups, and families to improve the overall health of communities.
Public Health Nurses work with communities to help plan and implement programs for immunizations, blood pressure testing, and other health screening. They instruct individuals, families, and other groups regarding health issues such as preventive care, nutrition, and childcare.
Nurse Practitioners
Nurse practitioners are the most advanced nurses, with the power to write prescriptions and independently diagnose and treat patients.
Registered Nurses (RNs)
Registered nurses (RNs) work to promote health, prevent disease, and help patients cope with illness. They are advocates and health educators for patients, families, and communities. When providing direct patient care, they observe, assess, and record symptoms, reactions, and progress in patients; assist physicians during surgeries, treatments, and examinations; administer medications; and assist in convalescence and rehabilitation.
RNs also develop and manage nursing care plans, instruct patients and their families in proper care, and help individuals and groups take steps to improve or maintain their health. While State laws govern the tasks that RNs may perform, it is usually the work setting that determines their daily job duties.
Home Health Nurses
Home health nurses provide nursing services to patients at home. They assess patients' home environments and instruct patients and their families. Home health nurses care for a broad range of patients, such as those recovering from illnesses and accidents, cancer, and childbirth. They must be able to work independently and may supervise home health aides.
Home health nurses provide periodic services, prescribed by a physician, to patients at home. They also provide support to patients and their families, and at times work independently.
Occupational Health Nurses (Industrial Nurses)
Occupational health nurses, also called industrial nurses, provide nursing care at worksites to employees, customers, and others with injuries and illnesses. They give emergency care, prepare accident reports, and arrange for further care if necessary. They also offer health counseling, conduct health examinations and inoculations, and assess work environments to identify potential or actual health problems.
Head Nurses or Nurse Supervisors
Head nurses or nurse supervisors direct nursing activities, primarily in hospitals. They plan work schedules and assign duties to nurses and aides, provide or arrange for training, and visit patients to observe nurses and to ensure that the patients receive proper care. They also may ensure that records are maintained and equipment and supplies are ordered.
Top Nursing Colleges
Purdue University Global - Certification, Associate's & Bachelor's Degree.
A Bachelor of Science in Nursing degree could help registered nurses (RNs) seek broader professional responsibilities and career opportunities. If you are an RN and want to advance your career, Purdue Global's online Bachelor of Science in Nursing completion program could help you pursue new opportunities in specialized nursing and nursing management.

Grand Canyon University - B.S. in Nursing (Registered Nurse - B.S.N.)
Grand Canyon University is accredited by the Higher Learning Commission, and offers nursing degrees at affordable prices. Grand Canyon University allows students to practice what they learn with hands on teaching methods.

Liberty University - Master's Degree.
Liberty University is one of the most respected names in online colleges and provides a variety of online degree plans, including a MSN program. Liberty University makes it possible to earn your entire nursing degree online.

Sponsored Schools