Featured Programs
Sponsored Schools
Nursing Career Info
Featured Article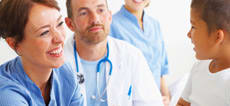 Demand for Nurses
Nurses may be the most in-demand health care position in the country.
Nursing Career Profile: Career Outlook
The job prospects for registered nurses are projected to be favorable. In fact, RNs should see a 22% increase in job openings, according to the U.S. Bureau of Labor Statistics (BLS). This will add approximately 581,500 more jobs into the market, the BLS reports. This is because the population is on the rise, driving up the need for more healthcare workers to handle the increasing number of patients. In addition, as current nurses begin retiring, those positions will become available. The fast development of medical technology and science also increases the amount of cases that can be treated, leading to more demand for nurses as well.
However, not all sectors of healthcare will experience the same boom in nursing positions. Hospitals will only see a 17% increase in nursing jobs, according to the BLS, while physician offices will experience 48% in growth. This may be because more and more patients will receive care in outpatient centers rather than in hospitals, driving down the demand for more nurses there while driving up the demand for nurses outside of the hospital environment.
Top Nursing Colleges
Purdue University Global - Certification, Associate's & Bachelor's Degree.
A Bachelor of Science in Nursing degree could help registered nurses (RNs) seek broader professional responsibilities and career opportunities. If you are an RN and want to advance your career, Purdue Global's online Bachelor of Science in Nursing completion program could help you pursue new opportunities in specialized nursing and nursing management.

Grand Canyon University - B.S. in Nursing (Registered Nurse - B.S.N.)
Grand Canyon University is accredited by the Higher Learning Commission, and offers nursing degrees at affordable prices. Grand Canyon University allows students to practice what they learn with hands on teaching methods.

Liberty University - Master's Degree.
Liberty University is one of the most respected names in online colleges and provides a variety of online degree plans, including a MSN program. Liberty University makes it possible to earn your entire nursing degree online.

Sponsored Schools