Featured Programs
Sponsored Schools
Nursing Career Info
Featured Article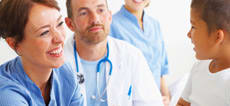 Demand for Nurses
Nurses may be the most in-demand health care position in the country.
Health Services Management
Average Salary: Radiologic technicians: $52,210; Health educators: $44,00
Average Salary: $80,240
Prerequisites: High school diploma; completion of prerequisites; strong business management skills; good communication skills and possess problem-solving and critical thinking skills.
Known States in Industry: New York, Maryland, Oklahoma, Maine, Washington, DC, Massachusetts, Rhode Island, New Jersey and Washington.
Degree Description:
Health services management is an essential part of running a medical facility and keeping the business and its employees working as efficiently as possible. Students who have a strong sense of leadership and a deep interest in business management may find their calling in health services management. The bachelor's degree in health services management is typically offered as a business specialization that focuses heavily on business strategies and management principles and practices. Students can expect to take classes in a wide range of healthcare topics, including risk and insurance, healthcare planning, managing healthcare organizations, introduction to clinical care, negotiation skills, introduction to management in health service, health economics and much more. Although a master's degree is often the standard credential for most generalist positions, a bachelor's degree will be adequate for several entry-level positions within the departmental level of healthcare facilities.
Salary and Job Outlook:
Graduates of a health services management degree program will be eligible to enter several leadership and administrative positions within different healthcare settings. A common career path for most graduates is to become a medical and health services manager, also known as a healthcare executive or healthcare administrator. This job entails much of what students learn and are trained to do in their degree program. The medical and health services management field can expect to see a positive employment growth by 2018, according to the U.S. Bureau of Labor Statistics. The 16 percent employment increase can be attributed to the diverse and expanding needs of the healthcare industry. In 2008, medical and health services managers made an average annual salary of $80,240.
Job Prerequisites:
Health services management applicants will need to have a high school diploma and complete any prerequisite courses prior to enrollment. In addition to meeting all academic requirements, prospective students should also have strong business management and communications skills, and be able to think critically when faced with tough decisions.
Industry Demographics:
Before you enroll in any health services management school or accept a job, you should do a fair amount of research to make sure you're getting the most out of your time and money. One way to find the best schools and jobs is to look at states that have the highest concentration of employees within this industry. According to BLS, the states with the most medical and health services managers include: New York, Maryland, Oklahoma, Maine and Washington, DC. Another factor to consider is how much each state pays these employees. The states with the highest paid medical and health services managers are Massachusetts, Rhode Island, New Jersey, New York and Washington.
Future Options:
If you already have your bachelor's degree in health services management, there are still plenty of exciting educational opportunities awaiting you. Since health services management is often a stepping stone for graduate study within the field, you could pursue a master's degree in health services administration, long-term care administration, health sciences, public health, public administration or business administration. Pursuing a graduate degree will help further your job prospects and job responsibilities, as well as keep you fresh on the latest trends and procedures happening in public and private healthcare settings.
Top Nursing Colleges
Purdue University Global - Certification, Associate's & Bachelor's Degree.
A Bachelor of Science in Nursing degree could help registered nurses (RNs) seek broader professional responsibilities and career opportunities. If you are an RN and want to advance your career, Purdue Global's online Bachelor of Science in Nursing completion program could help you pursue new opportunities in specialized nursing and nursing management.

Grand Canyon University - B.S. in Nursing (Registered Nurse - B.S.N.)
Grand Canyon University is accredited by the Higher Learning Commission, and offers nursing degrees at affordable prices. Grand Canyon University allows students to practice what they learn with hands on teaching methods.

Liberty University - Master's Degree.
Liberty University is one of the most respected names in online colleges and provides a variety of online degree plans, including a MSN program. Liberty University makes it possible to earn your entire nursing degree online.

Sponsored Schools