Featured Programs
Sponsored Schools
Nursing Career Info
Featured Article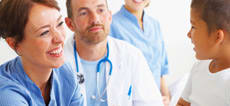 Demand for Nurses
Nurses may be the most in-demand health care position in the country.
Healthcare Administration
Average Salary: $80,240
Prerequisites: High school diploma; completion of prerequisites; strong business management skills; excellent communication skills and problem-solving and critical thinking skills.
Known States in Industry: New York, Maryland, Oklahoma, Maine, Washington, DC, Massachusetts, Rhode Island, New Jersey and Washington.
Degree Description:
Students who have a genuine interest in business management and thrive in leadership roles should consider pursuing a healthcare administration degree. The bachelor's degree in healthcare administration is designed to prepare students to enter a number of entry-level positions at the departmental level of a healthcare organization. Students in this program will learn all about the administrative and management duties that keep a medical facility running smoothly. They also learn how to effectively plan, coordinate, direct and supervise the delivery of healthcare, as well as collaborate with other administrators or managers to develop and implement new business strategies. Students can expect to take classes in healthcare management, marketing, healthcare finance, healthcare planning, finance, accounting, policy analysis and human resources.
Salary and Job Outlook:
Graduates of a healthcare administration program will be eligible to work in several different positions within this field, specifically as a healthcare administrator or health services administrator. Healthcare administrators, also known as medical and health services managers, are expected to have a positive job outlook in the coming years, thanks to the expansion of healthcare facilities and an increased need for healthcare administrative services. According to the U.S. Bureau of Labor Statistics, healthcare administrators made an average salary of $80,240.
Job Prerequisites:
If you're interested in applying for a healthcare administration degree, you'll need to make sure you meet all educational requirements before anything else. All applicants should have their high school diploma and master any prerequisites needed for enrollment. Also, it's not uncommon for employers to seek applicants with some form of clinical experience as a nurse, therapist or technician. It might be in your best interest to seek additional training, education or work experience to help increase your chances of getting a healthcare administrator job.
Industry Demographics:
When searching for the best healthcare administration schools and jobs, you should consider looking at states that have the highest concentration of workers within this industry and the states that pay the most for their services. According to BLS, New York, Maryland, Oklahoma, Maine and Washington, DC, have the highest concentration of healthcare administrators in the U.S. The states with the highest salaries for this occupation are Massachusetts, Rhode Island, New Jersey, New York and Washington. This data indicates that these states have more educational options, better training and more jobs available to graduates, as well as more money to supply higher salaries.
Future Options:
If you've already earned your bachelor's degree in healthcare administration, don't worry, because there are several other educational opportunities for you to pursue. If you want to stay in the healthcare administration field, you can significantly enhance your career with a master of healthcare administration degree. You can also go back to school for your bachelor of science in nursing. A BSN, along with a bachelor's degree in healthcare administration, can be extremely valuable in a number of administrative or clinical careers.
Top Nursing Colleges
Purdue University Global - Certification, Associate's & Bachelor's Degree.
A Bachelor of Science in Nursing degree could help registered nurses (RNs) seek broader professional responsibilities and career opportunities. If you are an RN and want to advance your career, Purdue Global's online Bachelor of Science in Nursing completion program could help you pursue new opportunities in specialized nursing and nursing management.

Grand Canyon University - B.S. in Nursing (Registered Nurse - B.S.N.)
Grand Canyon University is accredited by the Higher Learning Commission, and offers nursing degrees at affordable prices. Grand Canyon University allows students to practice what they learn with hands on teaching methods.

Liberty University - Master's Degree.
Liberty University is one of the most respected names in online colleges and provides a variety of online degree plans, including a MSN program. Liberty University makes it possible to earn your entire nursing degree online.

Sponsored Schools