Featured Programs
Sponsored Schools
Nursing Career Info
Featured Article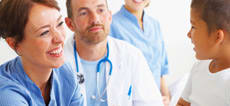 Demand for Nurses
Nurses may be the most in-demand health care position in the country.
Healthcare Management
Average Salary: $80,240
Prerequisites: High school diploma; completion of prerequisites.
Known States in Industry: New York, Maryland, Oklahoma, Maine, Washington, DC, Massachusetts, Rhode Island, New Jersey and Washington.
Degree Description:
Combine your interests of medicine and business with a healthcare management degree. This bachelor's degree program prepares students for several rewarding management and administrative roles within the healthcare system. Students in this program will learn about healthcare strategic and financial management, healthcare organizations, healthcare policy analysis and the day-to-day administrative duties that help keep medical facilities running smoothly.
Salary and Job Outlook:
Healthcare management is one of the fastest growing fields of healthcare and an excellent one to enter today. According to the U.S. Bureau of Labor Statistics, employment of medical and health services managers is expected to grow 16 percent by 2018. This specialized area of healthcare prepares students to work as hospital administrators, medical office managers, healthcare administrators, medical and health services managers and other rewarding careers. The average salary for medical and health services managers was $80,240 in 2008, according to BLS.
Job Prerequisites:
If you want to pursue a healthcare management degree, you'll need to meet certain academic requirements before you apply. All applicants need to have their high school diploma and master any prerequisites required for the program. In addition to educational requirements, prospective healthcare management students should have strong business and management skills, as well as excellent communication skills and leadership qualities. Additional training or education may be needed for certain jobs and non-entry level positions within the healthcare management field.
Industry Demographics:
Healthcare management schools and jobs can be found all over the country, but in order to find the best ones, you have to consider some important factors first. One way to determine which states have the best healthcare management schools and careers is to look at the ones with a high employment of healthcare management jobs, such as New York, Maryland, Oklahoma, Maine and Washington, DC. Another trick is to find the top-paying states for jobs within healthcare management, which are Massachusetts, Rhode Island, New Jersey, New York and Washington.
Future Options:
If you already have your bachelor of science in healthcare management, there are still plenty of educational opportunities available for you. If you want to advance your education in healthcare management and continue to work in this area, you can go back to school for your master's degree in healthcare management. There are several MBA healthcare management specializations that build upon your current knowledge and skills, while helping you develop new management skills and strategies that can be used in a wide range of roles.
Top Nursing Colleges
Purdue University Global - Certification, Associate's & Bachelor's Degree.
A Bachelor of Science in Nursing degree could help registered nurses (RNs) seek broader professional responsibilities and career opportunities. If you are an RN and want to advance your career, Purdue Global's online Bachelor of Science in Nursing completion program could help you pursue new opportunities in specialized nursing and nursing management.

Grand Canyon University - B.S. in Nursing (Registered Nurse - B.S.N.)
Grand Canyon University is accredited by the Higher Learning Commission, and offers nursing degrees at affordable prices. Grand Canyon University allows students to practice what they learn with hands on teaching methods.

Liberty University - Master's Degree.
Liberty University is one of the most respected names in online colleges and provides a variety of online degree plans, including a MSN program. Liberty University makes it possible to earn your entire nursing degree online.

Sponsored Schools