Featured Programs
Sponsored Schools
Nursing Career Info
Featured Article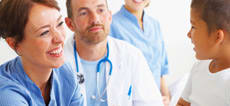 Demand for Nurses
Nurses may be the most in-demand health care position in the country.
Management for Registered Nurses
Average salary: $80,240
Prerequisites: Associate or bachelor's degree in nursing; current RN license; strong leadership skills and general business knowledge.
Known States in Industry: New York, Maryland, Oklahoma, Maine, Washington, DC, Massachusetts, Rhode Island, New Jersey and Washington.
Degree Description:
Registered nurses who want to enhance their professional credentials and advance to supervisory roles will find that and much more in the management degree program for registered nurses. Students enrolled in this non-clinical degree program will acquire the business and leadership skills needed for advanced administrative and management jobs in healthcare. Students in this program will primarily focus on nursing leadership and management as it relates to directing, organizing, planning, staffing and managing the delivery of healthcare. They'll learn how to think critically and communicate effectively and make important decisions based on the needs of the healthcare facility and patient services.
Salary and Job Outlook:
Graduates of a management degree program are eligible for several different leadership positions within the healthcare field. A popular field of choice is medical and health services management. Medical and health services managers, also known as healthcare executives or healthcare administrators, made an average annual salary of $80,240 in 2008, according to the U.S. Bureau of Labor Statistics. Medical and health services management is a growing field with excellent job opportunities for registered nurse. As healthcare continues to expand and becomes more advanced, more medical and health services managers will be needed to manage the delivery of healthcare. Registered nurses with adequate work experience and strong business management skills will have an advantage in the job market.
Job Prerequisites:
In order to enroll in a management program, applicants will need to meet certain academic requirements first. This particular program is designed for registered nurses who want to make the switch to administrative or management positions. Prospective students will need to hold an associate or bachelor's degree in nursing, as well as a current, unencumbered RN license obtained from passing the national licensing examination (NCLEX-RN). Management majors should have a basic understanding of business practices and healthcare management prior to enrolling in the program. In addition to having adequate work experience and meeting all academic prerequisites, applicants also need to have strong leadership traits. Applicants should possess diplomacy, fairness and excellent communication skills, which will be used in school and in healthcare management positions.
Industry Demographics:
When searching for schools to complete your management degree program, it may be in your best interest to look at states that have high employment within this industry. In addition, you should consider states with the highest salaries for someone working in healthcare management. A high salary and large concentration of workers in this occupation could indicate that these states have more options for graduates and students are highly prepared to enter this competitive field. According to BLS, New York, Maryland, Oklahoma, Maine and Washington, DC, have the highest concentration of medical and health services managers in the U.S. The states with the highest salaries for this occupation are Massachusetts, Rhode Island, New Jersey, New York and Washington.
Future Options:
If you're a registered nurse and you already hold a bachelor's degree in management, there are still several exciting options for you to explore. If you'd like to remain in nursing administration and expand your qualifications, you can earn a master's degree in nursing and specialize in leadership and management. An MSN degree track will prepare you for several advanced nursing positions, such as nurse executive, nurse administrator, nurse researcher and nurse educator. For the most part, all of these high-demand nursing specialties require a general or specialized master's degree in nursing.
Top Nursing Colleges
Purdue University Global - Certification, Associate's & Bachelor's Degree.
A Bachelor of Science in Nursing degree could help registered nurses (RNs) seek broader professional responsibilities and career opportunities. If you are an RN and want to advance your career, Purdue Global's online Bachelor of Science in Nursing completion program could help you pursue new opportunities in specialized nursing and nursing management.

Grand Canyon University - B.S. in Nursing (Registered Nurse - B.S.N.)
Grand Canyon University is accredited by the Higher Learning Commission, and offers nursing degrees at affordable prices. Grand Canyon University allows students to practice what they learn with hands on teaching methods.

Liberty University - Master's Degree.
Liberty University is one of the most respected names in online colleges and provides a variety of online degree plans, including a MSN program. Liberty University makes it possible to earn your entire nursing degree online.

Sponsored Schools