Featured Programs
Sponsored Schools
Nursing Career Info
Featured Article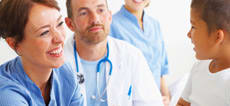 Demand for Nurses
Nurses may be the most in-demand health care position in the country.
Medical Assistant
What Does a Medical Assistant Do?
Medical assistants are specially trained to take care of certain administrative and/or clinical duties in doctor's offices, as well as the offices of various specialists, such as OB/GYNs, podiatrists, chiropractors, or optometrists. A medical assistant's responsibilities will vary depending on where they work, but many perform routine duties such as taking a patient's blood pressure, height and weight and collecting lab specimens before a patient is seen by a physician, as well as recording medical histories. Medical assistants may report to an office manager or directly to a physician or other health care practitioner. Some medical assistants serve only in an administrative capacity and deal primarily with a patient's paperwork, including medical records, insurance forms, and lab records, as well as answering phone calls, scheduling appointments, and managing incoming and outgoing mail. Others serve only in a clinical capacity, directly assisting a physician or nurse practitioner before, during and after a patient's examination or screening.
How Can I Become a Medical Assistant?
To become a medical assistant, you will need to have earned your high school diploma or its equivalent. Some positions will require a degree, but you will not always need to have a degree to become a medical assistant. That being said, taking at least some formal college courses, particularly in anatomy & physiology, medical terminology, and accounting, is helpful in preparing you for medical assisting and in helping you to obtain a job. Associate degrees are particularly useful to that end. Medical assistant education and training are offered in vocational-technical programs in high schools and vocational colleges, as well as community and junior colleges, resulting in a diploma or associate degree in medical assisting, according to the U.S. Bureau of Labor Statistics. Formal education programs that include an internship are especially useful in helping you land a job. If you choose not to obtain a diploma or degree in medical assisting, you will do well to obtain experience as a secretary or administrative assistant, or to do volunteer work related to health care. After gaining experience in medical assisting, you can pursue certification through the American Association of Medical Assistants.
What Is the Career and Salary Outlook for a Medical Assistant?
The career outlook for medical assistants throughout the next 10 years is excellent, and experienced medical assistants who specialize in a particular area of health care are often highly sought-after. In fact, medical assistants have one of the fastest-growing professions in the nation. The overall employment of medical assistants is projected to grow by a whopping 34 percent between 2008 and 2018, according to the U.S. Bureau of Labor Statistics. That's higher anticipated employment growth even than registered nurses! The average annual salary for a medical assistant is $28,300, according to the Bureau. However, a number of factors can affect your salary as a medical assistant, including how many years of experience you have, what certifications you have, what region of the U.S. you live in, and whether you are working in a metropolitan or rural area. Medical assistants who hold associate degrees can generally command higher salaries than those who do not.
Top Nursing Colleges
Purdue University Global - Certification, Associate's & Bachelor's Degree.
A Bachelor of Science in Nursing degree could help registered nurses (RNs) seek broader professional responsibilities and career opportunities. If you are an RN and want to advance your career, Purdue Global's online Bachelor of Science in Nursing completion program could help you pursue new opportunities in specialized nursing and nursing management.

Grand Canyon University - B.S. in Nursing (Registered Nurse - B.S.N.)
Grand Canyon University is accredited by the Higher Learning Commission, and offers nursing degrees at affordable prices. Grand Canyon University allows students to practice what they learn with hands on teaching methods.

Liberty University - Master's Degree.
Liberty University is one of the most respected names in online colleges and provides a variety of online degree plans, including a MSN program. Liberty University makes it possible to earn your entire nursing degree online.

Sponsored Schools