Featured Programs
Sponsored Schools
Nursing Career Info
Featured Article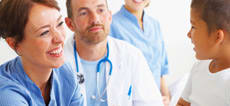 Demand for Nurses
Nurses may be the most in-demand health care position in the country.
Nurse Practitioner
What Does a Nurse Practitioner Do?
Nurse practitioners are advanced practice nurses who are specially trained to serve as primary and specialty health care providers, under the authority of a physician. They are educated at the master's level or higher and offer a wide variety of nursing and health care services to a wide variety of patients. Nurse practitioners may specialize in a particular area, such as family practice, adult practice, women's health, pediatrics, acute care and geriatrics. Other specialties might include neonatology or mental health. In most states, nurse practitioners have some degree of prescriptive authority, meaning they can prescribe medications—even narcotics. They also have a greater degree of autonomy than the average staff nurse, and can perform many of the same duties once considered the work of a physician. They diagnose diseases, initiate treatment plans and order lab tests for patients. They also refer patients to specialists when necessary. While some nurse practitioners run their own practices, most work collaboratively with physicians.
How Can I Become a Nurse Practitioner?
The first step toward becoming a nurse practitioner is to complete an approved nursing education program. For this career path, earning a Bachelor of Science in Nursing (BSN) from an accredited college or university is the way to go. You will need to maintain a high GPA during your undergraduate education to demonstrate aptitude for a master's program. It is also helpful to specialize at the bachelor's level in your preferred field (women's health, geriatrics, etc.). After completing a nursing program, all future nurses go on to take an exam called the NCLEX (National Council Licensure Examination) so they can become licensed to practice nursing in their state. Most RNs must gain clinical experience as a staff nurse before entering a graduate program for nurse practitioners, and all must eventually become master's-prepared to become a nurse practitioner. After obtaining significant clinical experience as a nurse practitioner, you can proceed to become board certified in your specialty area through the American Nurses Credentialing Center.
What Is the Career and Salary Outlook for a Nurse Practitioner?
Advanced practice nurses of all stripes are among of the most in-demand of all nursing professions because of their intense clinical training and high level of education. This includes nurse practitioners. Demand for nurse practitioners and other advanced practiced nurses is expected to spike over the next 10 years due to their ability to provide much-needed health care services in rural and inner city areas at a lower cost than a physician, according to the U.S. Bureau of Labor Statistics. The overall employment of RNs is projected to grow by 22 percent between 2008 and 2018, according to the Bureau. Nurse practitioners are among the highest paid of all nursing professions. The annual salary for an Advanced Registered Nurse Practitioner (ARNP) is between $69,754 and $91,823, according to online compensation site Payscale.com. However, a number of factors can affect your salary as a nurse practitioner, including how many years of experience you have, what certifications you have, what region of the U.S. you live in, and whether you are working in a metropolitan or rural area.
Top Nursing Colleges
Purdue University Global - Certification, Associate's & Bachelor's Degree.
A Bachelor of Science in Nursing degree could help registered nurses (RNs) seek broader professional responsibilities and career opportunities. If you are an RN and want to advance your career, Purdue Global's online Bachelor of Science in Nursing completion program could help you pursue new opportunities in specialized nursing and nursing management.

Grand Canyon University - B.S. in Nursing (Registered Nurse - B.S.N.)
Grand Canyon University is accredited by the Higher Learning Commission, and offers nursing degrees at affordable prices. Grand Canyon University allows students to practice what they learn with hands on teaching methods.

Liberty University - Master's Degree.
Liberty University is one of the most respected names in online colleges and provides a variety of online degree plans, including a MSN program. Liberty University makes it possible to earn your entire nursing degree online.

Sponsored Schools