Featured Programs
Sponsored Schools
Nursing Career Info
Featured Article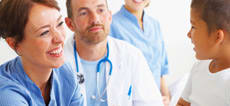 Demand for Nurses
Nurses may be the most in-demand health care position in the country.
Nursing Informatics
What Does a Nurse Informaticist Do?
Nurse informaticists, also known as nurse informatics specialists, are specially trained to help manage, interpret and communicate the vital medical data and information that flows into and out of doctor's offices, hospitals, clinics and other health care facility computer systems. Nurse informaticists usually work in the information systems department of a health care setting, and they are skilled in three primary areas: computer science, information technology and nursing science. Nurses are needed in this department to evaluate the computer systems, applications, tools and processes that nurses use to manage health care data. They may also make recommendations as to how to improve the processes and uses of computer programs in order to improve patient outcomes. For this reason, many nurse informaticists work as consultants. Other nurse informaticists work in an administrative capacity, and contribute to decision-making on medical information technology. Some nurse informaticists educate nurses on how to effectively enter medical information into a computer system, as well as train nurses how to use new technology.
How Can I Become a Nurse Informaticist?
Informatics nurses are generally registered nurses with strong clinical backgrounds, as well as strong backgrounds in information technology. The first step toward becoming a nurse informaticist is to complete an approved nursing education program. It is important to choose a nursing school that offers a specialty area in nursing informatics. If you choose this career path and plan to become certified, you should plan to earn a Bachelor of Science in Nursing (BSN) from an accredited college or university, rather than an associate degree in nursing or a nursing diploma. After completing your nursing program, all future nurses go on to take an exam called the NCLEX (National Council Licensure Examination) so they can become licensed to practice nursing in their state. You generally must gain significant clinical experience as a staff nurse before seeking direct training in informatics and transitioning to informatics. It is a good idea to seek out continuing education in nursing informatics. Once you have transitioned into informatics and gained enough experience, you may proceed to become certified as an informatics nurse through the American Nurses Credentialing Center (ANCC).
What Is the Career and Salary Outlook for a Nurse Informaticist?
The career outlook for nurses overall is excellent, and those who specialize in a particular area of health care, such as nursing informatics, are often highly sought-after. As health care information technology is improved and expanded, there should be more and more open positions for nurse informaticists. However, because nursing informatics is a niche career, it may be difficult to find open positions in the field. The overall employment of registered nurses is projected to grow by 22 percent between 2008 and 2018, according to the U.S. Bureau of Labor Statistics. Online compensation site Payscale.com puts the salary range for a nursing informatics specialist between $63,346 and $89,290. The average annual salary for a nurse informaticist is $59,000, according to SimplyHired.com, a site that calculates average salaries based on what is listed in the job postings it receives. A number of factors can affect your salary, including your years of experience, your education level, what certifications you have, what region of the U.S. you live in, and whether you are working in a metropolitan or rural area.
Top Nursing Colleges
Purdue University Global - Certification, Associate's & Bachelor's Degree.
A Bachelor of Science in Nursing degree could help registered nurses (RNs) seek broader professional responsibilities and career opportunities. If you are an RN and want to advance your career, Purdue Global's online Bachelor of Science in Nursing completion program could help you pursue new opportunities in specialized nursing and nursing management.

Grand Canyon University - B.S. in Nursing (Registered Nurse - B.S.N.)
Grand Canyon University is accredited by the Higher Learning Commission, and offers nursing degrees at affordable prices. Grand Canyon University allows students to practice what they learn with hands on teaching methods.

Liberty University - Master's Degree.
Liberty University is one of the most respected names in online colleges and provides a variety of online degree plans, including a MSN program. Liberty University makes it possible to earn your entire nursing degree online.

Sponsored Schools