Featured Programs
Sponsored Schools
Nursing Career Info
Featured Article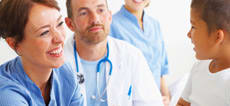 Demand for Nurses
Nurses may be the most in-demand health care position in the country.
Ophthalmic Nurse
What Does an Ophthalmic Nurse Do?
Ophthalmic nurses care for patients who are diagnosed with disorders of the eyes. The eyes are indicators of a person's health, and keeping them in good shape is vital to one's wellness. Therefore, these types of nurses, who work under the supervision of an ophthalmologist, are an essential part of health care. As vision problems can be related to medical problems like hypertension and diabetes, when patients suffer from common eye disorders and diseases like glaucoma, cataracts, eye trauma, and partial or full blindness, ophthalmic nurses conduct tests that examine their health in other areas. Ophthalmic nurses prepare patients who have to undergo eye surgery by performing pre-operative assessments that include gathering information about their overall health, current medications, allergic reactions to medications, and systemic conditions. They also educate patients on the surgical procedure itself as well as aftercare procedures. During operations, ophthalmic nurses assist the surgical team and function as circulating or scrub nurses. They carefully and safely position patients for the surgical best access, verify the surgical site, and help out with technical instrumentation.
How Can I Become an Ophthalmic Nurse?
If you want to enter the field of ophthalmology, you must first complete a nursing diploma program, associate degree program or a bachelor's degree program. Throughout your education you should try to concentrate on ocular anatomy and disease, so that you can become familiar with ophthalmology. You will then need to take the NCLEX-RN examination in order to earn a license to practice nursing in your state. You can advance your knowledge of ophthalmology nursing through self-study, on-the-job training and continuing education courses. Many ophthalmology nurses choose to demonstrate their expertise by becoming certified through a professional organization like the National Certifying Board for Ophthalmic Registered Nurses. The board grants certification for qualified nurses who fulfill all eligibility requirements and pass a certification exam. The exam covers topics relevant to the practice of ophthalmology, such as ocular conditions, pharmacology, ophthalmic nursing interventions, professional issues and nursing assessment of ophthalmic patients.
What Is the Career and Salary Outlook for an Ophthalmic Nurse?
As ophthalmology is not one of the most popular nursing specializations, there are many opportunities for those who want to pursue a career in it. Employment in this area of nursing is expected to increase as the elderly population, who are more likely to experience eye conditions due to aging, continues to grow. Ophthalmic nurses can find employment opportunities in a variety of work environments, such as laser centers, eye banks, home health, refractive surgery centers, and charitable organizations. But since most procedures can be done on an outpatient basis, they most commonly work in ambulatory settings. These specialized nurses can work in positions as ophthalmic staff nurses, clinical nurse specialists, ophthalmic nurse directors and ophthalmic primary nurses. The salary outlook for these highly qualified nurses depends on the rank of position, as well as the type, size and location of the employer. According to the Bureau of Labor Statistics, the median annual wages of registered nurses was $62,450 in May 2008. For nurses who specialize in specific areas of nursing, such as ophthalmology, that annual salary can increase depending on education and skill level.
Top Nursing Colleges
Purdue University Global - Certification, Associate's & Bachelor's Degree.
A Bachelor of Science in Nursing degree could help registered nurses (RNs) seek broader professional responsibilities and career opportunities. If you are an RN and want to advance your career, Purdue Global's online Bachelor of Science in Nursing completion program could help you pursue new opportunities in specialized nursing and nursing management.

Grand Canyon University - B.S. in Nursing (Registered Nurse - B.S.N.)
Grand Canyon University is accredited by the Higher Learning Commission, and offers nursing degrees at affordable prices. Grand Canyon University allows students to practice what they learn with hands on teaching methods.

Liberty University - Master's Degree.
Liberty University is one of the most respected names in online colleges and provides a variety of online degree plans, including a MSN program. Liberty University makes it possible to earn your entire nursing degree online.

Sponsored Schools