Featured Programs
Sponsored Schools
Nursing Career Info
Featured Article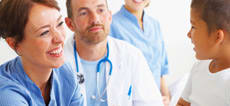 Demand for Nurses
Nurses may be the most in-demand health care position in the country.
Perianesthesia Nurse
What Does a Perianesthesia Nurse Do?
When people think of the team involved in surgical procedures, they often only think of the work of surgeons, operating room nurses, and anesthesiologists. Though these are undoubtedly important figures in surgery, when it comes to patient recovery immediately after surgeries, the work of perianesthesia nurses is key. These nurses work with patients who are unconscious due to the use of anesthesia and care for them until after they regain consciousness. Though most patients who have undergone surgery with anesthesia wake up calm, perianesthesia nurses must still be prepared to handle the odd cases where patients react aversely to the anesthesia. These cases can include patients regaining consciousness with emergence excitement, extreme confusion, vomiting, severe pain, or breathing problems. They also are responsible for preparing patients for surgery, where their duties are to consult with patients on the procedures they will be going through and what to expect immediately after treatment as well as during recovery.
How Can I Become a Perianesthesia Nurse?
Those interested in becoming a perianesthesia nurse must first earn licensure to work as a registered nurse (RN). Becoming a registered nurse can be achieved in three educational paths: with a diploma, associate degree, or bachelor's degree. Most health care facilities prefer perianesthesia nurses to have at least a bachelor's degree in nursing because of the delicate nature of working with anesthesia, surgery, and recovery. While still in nursing school, student nurses should take courses that relate specifically to anesthesia to learn more about the skills required. Some programs offer a perianesthesia concentration, which would be immensely helpful for those interested in the field to pursue. After nursing school, perianesthesia nurses can work in the field and apply for certification from the American Board of Perianesthesia Nursing after completing at least 1,800 hours of direct perianesthesia work. To gain certification, nurses must successfully complete either the Certified Post Anesthesia Nurse exam (CPAN) or the Certified Ambulatory Perianesthesia Nurse exam (CAPA).
What Is the Career and Salary Outlook for a Perianesthesia Nurse?
As medical technology advances, more illnesses and injuries will be able to be treated with surgical procedures. The demand for those with expertise in the work involved with surgical procedures will increase. Perianesthesia nurses play an important part in the success of surgical procedures, so demand for their skills will undoubtedly increase. In addition, many surgeries are moving out of the confines of hospital walls and into ambulatory surgical units, which are surgery rooms in private physician's clinics. The employment of registered nurses in offices of physicians – which includes perianesthesia nurses – is projected to increase an astounding 48 percent from 2008-18, according to the Bureau of Labor Statistics. This means that the career outlook for perianesthesia nurses will be largely favorable. The salary for perianesthesia nurses is good as well, with registered nurses in the position earning an average hourly wage of $33.64, according to PayScale Inc. Of course, the pay rates for perianesthesia nurses will vary depending on the nurse's level of education, place of employment, and geographic location.
Top Nursing Colleges
Purdue University Global - Certification, Associate's & Bachelor's Degree.
A Bachelor of Science in Nursing degree could help registered nurses (RNs) seek broader professional responsibilities and career opportunities. If you are an RN and want to advance your career, Purdue Global's online Bachelor of Science in Nursing completion program could help you pursue new opportunities in specialized nursing and nursing management.

Grand Canyon University - B.S. in Nursing (Registered Nurse - B.S.N.)
Grand Canyon University is accredited by the Higher Learning Commission, and offers nursing degrees at affordable prices. Grand Canyon University allows students to practice what they learn with hands on teaching methods.

Liberty University - Master's Degree.
Liberty University is one of the most respected names in online colleges and provides a variety of online degree plans, including a MSN program. Liberty University makes it possible to earn your entire nursing degree online.

Sponsored Schools