Featured Programs
Sponsored Schools
Nursing Career Info
Featured Article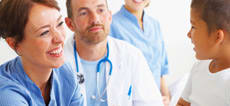 Demand for Nurses
Nurses may be the most in-demand health care position in the country.
Registered Nurse
What Does a Registered Nurse Do?
Registered nursing is the general term for a large group of individuals in the nursing profession. Think of registered nursing as an umbrella term that covers a variety of more specific nursing occupations. For example, registered nurses can be surgical nurses, pediatric nurse practitioners, or pulmonary nurses. However, all registered nurses perform largely the same duties no matter what specific niche they work in. All registered nurses work to promote health, prevent disease, and help patients cope with illnesses, injuries, and disabilities. They also can assist physicians and other health care professionals in taking vital signs, recording symptoms, noting treatment progress, looking over health records, and conducting basic examinations and health screenings. Their work saves physicians time so that check-ups can move more efficiently. In addition, registered nurses work to educate patients and the patients' families on how to maintain optimal health, administer medication, and deal with any illnesses or conditions that the patient may have.
How Can I Become a Registered Nurse?
To become a registered nurse, you must first earn a nursing education. You can choose to earn a nursing diploma, associate degree, or bachelor's degree in nursing from an accredited and approved nursing program. To ensure that the program and school you chose is acceptable, check with your state's Board of Nursing. Which educational path you choose to take is up to your personal preference, but you should keep your ideal future career in mind. For example, if you want to enter into advanced level nursing, such as becoming a nurse practitioner, then you will need to earn a bachelor's degree in nursing before you can move on to that level. However, if you are content to work as a nurse in a hospital as part of the general nursing team, then any level of nursing education is acceptable. After the nursing program has been completed, all nursing students will need to take the NCLEX-RN examination. This exam will determine whether the nursing students have enough knowledge and skills to work in the field. Those who successfully complete the examination will gain licensure to officially practice as registered nurses. Nurses are required to regularly renew their licenses, though how often this must be done varies between states.
What Is the Career and Salary Outlook for a Registered Nurse?
Out of all of the careers in the job force today, registered nursing is one of the most prosperous. With approximately 2.6 million jobs, registered nurses make up the single largest group in the health care occupation. And that number is projected to grow. During the 2008-18 decade, employment opportunities for registered nurses are expected to increase by an astounding 22 percent, according to the Bureau of Labor Statistics. This will add about 581,500 new jobs into the work force, which is good news indeed for those looking to join the nursing field because this means that new nurses are likely to find rewarding job opportunities easily after completing a nursing program. In addition to job availability and prosperity, registered nurses can enjoy financial satisfaction as well. Registered nurses earned an average of $62,450 annually, according to the Bureau. However, this figure can change dramatically depending on the nurse's level of education, years of experience, area of work, employer, and geographic location.
Top Nursing Colleges
Purdue University Global - Certification, Associate's & Bachelor's Degree.
A Bachelor of Science in Nursing degree could help registered nurses (RNs) seek broader professional responsibilities and career opportunities. If you are an RN and want to advance your career, Purdue Global's online Bachelor of Science in Nursing completion program could help you pursue new opportunities in specialized nursing and nursing management.

Grand Canyon University - B.S. in Nursing (Registered Nurse - B.S.N.)
Grand Canyon University is accredited by the Higher Learning Commission, and offers nursing degrees at affordable prices. Grand Canyon University allows students to practice what they learn with hands on teaching methods.

Liberty University - Master's Degree.
Liberty University is one of the most respected names in online colleges and provides a variety of online degree plans, including a MSN program. Liberty University makes it possible to earn your entire nursing degree online.

Sponsored Schools