Featured Programs
Sponsored Schools
Nursing Career Info
Featured Article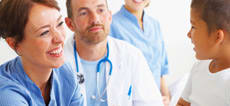 Demand for Nurses
Nurses may be the most in-demand health care position in the country.
Reproductive Nurse
What Does a Reproductive Nurse Do?
Reproductive nurses work with families, couples and individuals to provide educational information, treatment and support in the areas of fertility, conception and other matters concerning reproduction. They also work with women currently going through menopause, providing them with the necessary information about symptoms and treatment options. Reproductive nurses can work in a variety of settings from counseling programs, private reproductive clinics, obstetrics and gynecological practices, hospitals and even egg donor centers. These nurses should be especially sympathetic, compassionate and patient as they are dealing with people facing very sensitive life issues. This also means that reproductive nurses should be excellent communicators. Not only will they be dealing with patients, but also with physicians, other nurses, surgeons and researchers as well. Reproductive nurses must be comfortable using advanced technology and medical research, as they are often on the front lines of medical advances like stem cell research and cloning.
How Can I Become a Reproductive Nurse?
To become a reproductive nurse, one must first be a licensed registered nurse. This requires a person to earn either a two year or four year degree in nursing and pass the national licensing exam. Following this, a person is classified as a registered nurse and must work for several years in a reproductive setting before becoming certified as a reproductive nurse. This certification is available through the National Certification Corporation and can be earned in areas like obstetrics, neonatal and gynecology. This certification program is accredited by the National Commission for Certifying Agencies (NCCA) and the National Organization for Competency Assurance (NOCA). This exam is computer based, contains multiple choice questions and covers topics related to reproduction, obstetrics and gynecology. Receiving this certification can greatly improve a registered nurse's job prospects, as well as salary. The more credentialed a nurse is, generally the more money or benefits they can command.
What Is the Career and Salary Outlook for a Reproductive Nurse?
The nursing profession in general is expected to grow by leaps and bounds over the next several years. It is one of the few industries not forced to make employment layoffs and financial cutbacks. Reproductive nurses will also be in high demand in the coming years. This can be attributed to the United States' growing population and rising birthrates. With more people having more children, the need for counseling, treatment and procedures related to fertility and reproduction can be expected to grow as well. The average annual salary for a reproductive nurse is around $54,000 per year. This number can vary greatly however, depending on one's geographic location, experience, certification and education levels. One of the greatest benefits of working as a reproductive nurse is the ability to provide support, answers and solutions for people facing infertility. Also, these nurses are able to work with cutting edge research and medical technologies in this field. One of the major drawbacks to working as a reproductive nurse can be the ethical dilemma some face regarding stem cell and cloning research.
Top Nursing Colleges
Purdue University Global - Certification, Associate's & Bachelor's Degree.
A Bachelor of Science in Nursing degree could help registered nurses (RNs) seek broader professional responsibilities and career opportunities. If you are an RN and want to advance your career, Purdue Global's online Bachelor of Science in Nursing completion program could help you pursue new opportunities in specialized nursing and nursing management.

Grand Canyon University - B.S. in Nursing (Registered Nurse - B.S.N.)
Grand Canyon University is accredited by the Higher Learning Commission, and offers nursing degrees at affordable prices. Grand Canyon University allows students to practice what they learn with hands on teaching methods.

Liberty University - Master's Degree.
Liberty University is one of the most respected names in online colleges and provides a variety of online degree plans, including a MSN program. Liberty University makes it possible to earn your entire nursing degree online.

Sponsored Schools