Featured Programs
Sponsored Schools
Nursing Career Info
Featured Article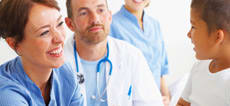 Demand for Nurses
Nurses may be the most in-demand health care position in the country.
Rheumatology Nurse
What Does a Rheumatology Nurse Do?
Rheumatology nurses provide support and treatment for patients dealing with Rheumatic diseases including lupus, Lyme disease, Rheumatoid arthritis, fibromyalgia, myositis, and spondylitis. Working with these types of patients involves duties like monitoring blood work, patient counseling and managing pain and the effectiveness of their medication. They can work in a variety of settings from patient assessment clinics, drug surveillance and counseling clinics, private rheumatology practices and hospitals. These rheumatology nurses must also be good communicators as they aim to inform their patients about helpful treatment programs and ways to manage their painful symptoms. They also work together with other nursing specialists, physicians, counselors and family members to provide the best possible care for the patients. Rheumatology nurses should be able to perform physical examinations, be able to recognize the signs and symptoms of rheumatic diseases and be able to design an appropriate treatment program for that patient, including medication prescription and physical therapy.
How Can I Become a Rheumatology Nurse?
As rheumatic diseases are associated with the muscles, joints and bones, rheumatology nurses should be very familiar with those parts of the human body. To work as a rheumatology nurse, one must first earn an education in nursing. This can be accomplished by attending a two or four year program in nursing and successfully passing the national licensing exam, NCLEX-RN. This license allows registered nurses to practice medicine legally in the United States. Currently, there is no recognized certification program for rheumatology nurses. Some hospitals or medical facilities offer training courses in the discipline for registered nurses with some working experience. If you are interested in working as a rheumatology nurse, consider taking courses in nursing school that directly relate to the discipline and contact a local hospital or rheumatology clinic for internship or training opportunities.
What Is the Career and Salary Outlook for a Rheumatology Nurse?
Currently, there are only around 5,000 rheumatology nurses working in the United States and research studies estimate this number won't be enough to meet the growing demand in coming years. Experts believe that by the year 2025, there will be only half of the rheumatology nurses available than is needed by the health care industry. This shortage is promising news for nursing students interested in this field or registered nurses seeking a career change. With the demand for rheumatology nurses being greater than the supply, new professionals to this discipline can expect greater salaries than usual and very competitive benefits packages. This field is also growing rapidly thanks to advances in medical technology related to rheumatology, like understanding the immunology of these disorders and developing new treatment options. This means that today the field of rheumatology has shifted from diseases management to diseases prevention.
Top Nursing Colleges
Purdue University Global - Certification, Associate's & Bachelor's Degree.
A Bachelor of Science in Nursing degree could help registered nurses (RNs) seek broader professional responsibilities and career opportunities. If you are an RN and want to advance your career, Purdue Global's online Bachelor of Science in Nursing completion program could help you pursue new opportunities in specialized nursing and nursing management.

Grand Canyon University - B.S. in Nursing (Registered Nurse - B.S.N.)
Grand Canyon University is accredited by the Higher Learning Commission, and offers nursing degrees at affordable prices. Grand Canyon University allows students to practice what they learn with hands on teaching methods.

Liberty University - Master's Degree.
Liberty University is one of the most respected names in online colleges and provides a variety of online degree plans, including a MSN program. Liberty University makes it possible to earn your entire nursing degree online.

Sponsored Schools