Featured Programs
Sponsored Schools
Nursing Career Info
Featured Article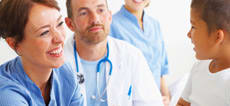 Demand for Nurses
Nurses may be the most in-demand health care position in the country.
Nursing Schools in Alabama
Featured Nursing College
Request Information
Sponsored Schools
Employment: 42,880
Hourly Mean Wage: $27.82
Annual Mean Wage: $57,860
Alabama is called "The Heart of Dixie" for good reason. Tucked away in the Deep South, the state is known for the friendliness of its residents and distinct Southern hospitality, making Alabama an excellent place both to live and to start a nursing career. First of all, the overall cost of living is fairly low in Alabama, meaning your paycheck as a nurse will go farther as food and energy costs are less than in most other states. Secondly, Alabama provides a good combination of big city life and small town living, depending on what you seek. Nature is also abundant in Alabama, which has four national forests, as well as scenic wonders like Winston County's Natural Bridge Rock, a sight that has been called the longest natural bridge east of the Rocky Mountains. Alabama even features a small slice of the coast, down in the Mobile area.
Alabama has a vibrant health care community, in which qualified nurses are needed in hospitals, nursing homes, outpatient clinics and home health care agencies. The most in-demand jobs are concentrated in and around the major metropolitan areas such as Montgomery, Mobile and Birmingham. In fact, the University of Alabama at Birmingham (UAB) and the Level I trauma center associated with it are known worldwide for medical research. UAB and its hospital are not only one of Birmingham's largest employers, but a hospital of this caliber creates ample work opportunities for nurses. Nurses in Alabama can get information about licensure in the state through the Alabama Board of Nursing. Alabama's nurses are represented by a professional organization called the Alabama State Nurses Association, an excellent resource where nurses can search for jobs, find continuing nursing education opportunities, and even connect with other nurses.
School Name: Alabama Southern Community College
Address: 2800 South Alabama Avenue, Monroeville, Alabama 36460
Contact: (251) 575-3156 x8252
Website: www.ascc.edu
Type of School: 2-year, Public
Programs Offered: Less than one year certificate;One but less than two years certificate;Associate's degree
Student-to-faculty Ratio: 13 to 1
School Name: Auburn University at Montgomery
Address: 7440 East Drive, Montgomery, Alabama 36117-3596
Contact: (334) 244-3000
Website: www.aum.edu
Type of School: 4-year, Public
Programs Offered: Bachelor's degree;Master's degree;Post-master's certificate
Student-to-faculty Ratio: 17 to 1
School Name: Auburn University Main Campus
Address: Auburn, Alabama, Auburn University, Alabama 36849
Contact: (334) 844-4000
Website: www.auburn.edu
Type of School: 4-year, Public
Programs Offered: Bachelor's degree;Master's degree;Post-master's certificate
Student-to-faculty Ratio: 18 to 1
School Name: Bevill State Community College
Address: 1411 Indiana Avenue, Jasper, Alabama 35501
Contact: (205) 387-0511
Website: www.bscc.edu
Type of School: 2-year, Public
Programs Offered: Less than one year certificate;One but less than two years certificate;Associate's degree
Student-to-faculty Ratio: 15 to 1
School Name: Bishop State Community College
Address: 351 North Broad Street, Mobile, Alabama 36603-5898
Contact: (251) 405-7000
Website: www.bishop.edu
Type of School: 2-year, Public
Programs Offered: Less than one year certificate;One but less than two years certificate;Associate's degree
Student-to-faculty Ratio: 15 to 1
School Name: Central Alabama Community College
Address: 1675 Cherokee Rd, Alexander City, Alabama 35010
Contact: (256) 234-6346
Website: www.cacc.edu
Type of School: 2-year, Public
Programs Offered: Less than one year certificate;One but less than two years certificate;Associate's degree
Student-to-faculty Ratio: 14 to 1
School Name: Chattahoochee Valley Community College
Address: 2602 College Drive, Phenix City, Alabama 36869
Contact: (334) 291-4900
Website: www.cv.edu
Type of School: 2-year, Public
Programs Offered: Less than one year certificate;One but less than two years certificate;Associate's degree
Student-to-faculty Ratio: 20 to 1
School Name: Gadsden State Community College
Address: 1001 George Wallace Dr, Gadsden, Alabama 35903
Contact: (256) 549-8200
Website: www.gadsdenstate.edu
Type of School: 2-year, Public
Programs Offered: Less than one year certificate;One but less than two years certificate;Associate's degree
Student-to-faculty Ratio: 19 to 1
School Name: George C Wallace Community College-Dothan
Address: 1141 Wallace Drive, Dothan, Alabama 36303-9234
Contact: (334) 983-3521
Website: www.wallace.edu
Type of School: 2-year, Public
Programs Offered: Less than one year certificate;One but less than two years certificate;Associate's degree
Student-to-faculty Ratio: 17 to 1
School Name: George C Wallace State Community College-Hanceville
Address: 801 Main St NW, Hanceville, Alabama 35077-2000
Contact: (256) 352-8000
Website: www.wallacestate.edu
Type of School: 2-year, Public
Programs Offered: Less than one year certificate;One but less than two years certificate;Associate's degree
Student-to-faculty Ratio: 21 to 1
School Name: George C Wallace State Community College-Selma
Address: 3000 Earl Goodwin Parkway, Selma, Alabama 36703-2808
Contact: (334) 876-9227
Website: www.wccs.edu
Type of School: 2-year, Public
Programs Offered: Less than one year certificate;One but less than two years certificate;Associate's degree
Student-to-faculty Ratio: 21 to 1
School Name: H Councill Trenholm State Technical College
Address: 1225 Air Base Blvd, Montgomery, Alabama 36108-3199
Contact: (334) 420-4200
Website: www.trenholmstate.edu
Type of School: 2-year, Public
Programs Offered: Less than one year certificate;One but less than two years certificate;Associate's degree
Student-to-faculty Ratio: 11 to 1
School Name: Herzing University
Address: 280 West Valley Ave, Birmingham, Alabama 35209
Contact: (205) 916-2800
Website: www.herzing.edu/birmingham
Type of School: 4-year, primarily associate's, Private for-profit
Programs Offered: One but less than two years certificate;Associate's degree;Bachelor's degree
Student-to-faculty Ratio: 13 to 1
School Name: J F Drake State Technical College
Address: 3421 Meridian St N, Huntsville, Alabama 35811
Contact: (256) 551-3115
Website: www.drakestate.edu
Type of School: 2-year, Public
Programs Offered: Less than one year certificate;One but less than two years certificate;Associate's degree
Student-to-faculty Ratio: 14 to 1
School Name: Jacksonville State University
Address: 700 Pelham Road North, Jacksonville, Alabama 36265
Contact: (256) 782-5781
Website: www.jsu.edu/
Type of School: 4-year, Public
Programs Offered: Bachelor's degree;Postbaccalaureate certificate;Master's degree;Post-master's certificate
Student-to-faculty Ratio: 20 to 1
School Name: James H Faulkner State Community College
Address: 1900 US Hwy 31 S, Bay Minette, Alabama 36507-2698
Contact: (251) 580-2100
Website: www.faulknerstate.edu
Type of School: 2-year, Public
Programs Offered: Less than one year certificate;One but less than two years certificate;Associate's degree
Student-to-faculty Ratio: 24 to 1
School Name: Jefferson Davis Community College
Address: 220 Alco Dr, Brewton, Alabama 36426
Contact: (251) 867-4832
Website: www.jdcc.edu
Type of School: 2-year, Public
Programs Offered: Less than one year certificate;One but less than two years certificate;Associate's degree
Student-to-faculty Ratio: 15 to 1
School Name: Jefferson State Community College
Address: 2601 Carson Rd, Birmingham, Alabama 35215-3098
Contact: (205) 853-1200
Website: www.jeffstateonline.com
Type of School: 2-year, Public
Programs Offered: Less than one year certificate;One but less than two years certificate;Associate's degree
Student-to-faculty Ratio: 20 to 1
School Name: John C Calhoun State Community College
Address: 6250 U S Highway 31 N, Tanner, Alabama 35671
Contact: (256) 306-2500
Website: www.calhoun.edu
Type of School: 2-year, Public
Programs Offered: Less than one year certificate;One but less than two years certificate;Associate's degree
Student-to-faculty Ratio: 23 to 1
School Name: Lawson State Community College-Birmingham Campus
Address: 3060 Wilson Rd SW, Birmingham, Alabama 35221-1717
Contact: (205) 925-2515
Website: www.lawsonstate.edu
Type of School: 2-year, Public
Programs Offered: Less than one year certificate;One but less than two years certificate;Associate's degree
Student-to-faculty Ratio: 18 to 1
School Name: Lurleen B Wallace Community College
Address: 1000 Dannelly Blvd., Andalusia, Alabama 36420-1418
Contact: (334) 222-6591
Website: www.lbwcc.edu
Type of School: 2-year, Public
Programs Offered: Less than one year certificate;One but less than two years certificate;Associate's degree
Student-to-faculty Ratio: 17 to 1
School Name: Northeast Alabama Community College
Address: 138 Highway 35, Rainsville, Alabama 35986
Contact: (205) 638-4418 x234
Website: www.nacc.edu
Type of School: 2-year, Public
Programs Offered: Less than one year certificate;One but less than two years certificate;Associate's degree
Student-to-faculty Ratio: 19 to 1
School Name: Northwest Shoals Community College-Muscle Shoals
Address: 800 George Wallace Blvd, Muscle Shoals, Alabama 35661
Contact: (256) 331-5200
Website: www.nwscc.edu
Type of School: 2-year, Public
Programs Offered: Less than one year certificate;One but less than two years certificate;Associate's degree
Student-to-faculty Ratio: 19 to 1
School Name: Oakwood University
Address: 7000 Adventist Blvd NW, Huntsville, Alabama 35896
Contact: (256) 726-7000
Website: www.oakwood.edu
Type of School: 4-year, Private not-for-profit
Programs Offered: Associate's degree;Bachelor's degree;Postbaccalaureate certificate;Master's degree
Student-to-faculty Ratio: 14 to 1
School Name: Reid State Technical College
Address: I65 and Hwy 83, Evergreen, Alabama 36401
Contact: (251) 578-1313
Website: www.rstc.cc.al.us
Type of School: 2-year, Public
Programs Offered: Less than one year certificate;One but less than two years certificate;Associate's degree
Student-to-faculty Ratio: 15 to 1
School Name: Samford University
Address: 800 Lakeshore Drive, Birmingham, Alabama 35229-2240
Contact: (205) 726-2011
Website: www.samford.edu
Type of School: 4-year, Private not-for-profit
Programs Offered: One but less than two years certificate;Associate's degree;Bachelor's degree;Master's degree;Post-master's certificate
Student-to-faculty Ratio: 11 to 1
School Name: Shelton State Community College
Address: 9500 Old Greensboro Rd, Tuscaloosa, Alabama 35405-8522
Contact: (205) 391-2347
Website: www.sheltonstate.edu
Type of School: 2-year, Public
Programs Offered: Less than one year certificate;One but less than two years certificate;Associate's degree
Student-to-faculty Ratio: 30 to 1
School Name: Snead State Community College
Address: 220 North Walnut Street, Boaz, Alabama 35957-0734
Contact: (256) 593-5120
Website: www.snead.edu
Type of School: 2-year, Public
Programs Offered: Less than one year certificate;One but less than two years certificate;Associate's degree
Student-to-faculty Ratio: 28 to 1
School Name: Southern Union State Community College
Address: 750 Roberts St, Wadley, Alabama 36276
Contact: (256) 395-2211
Website: www.suscc.edu
Type of School: 2-year, Public
Programs Offered: Less than one year certificate;One but less than two years certificate;Associate's degree
Student-to-faculty Ratio: 25 to 1
School Name: Spring Hill College
Address: 4000 Dauphin St, Mobile, Alabama 36608-1791
Contact: (251) 380-4000
Website: www.shc.edu
Type of School: 4-year, Private not-for-profit
Programs Offered: Less than one year certificate;One but less than two years certificate;Bachelor's degree;Postbaccalaureate certificate;Master's degree;Post-master's certificate
Student-to-faculty Ratio: 13 to 1
School Name: The University of Alabama
Address: 739 University Blvd, Tuscaloosa, Alabama 35487-0166
Contact: (205) 348-6010
Website: www.ua.edu/
Type of School: 4-year, Public
Programs Offered: Bachelor's degree;Master's degree;Post-master's certificate
Student-to-faculty Ratio: 22 to 1
School Name: Troy University
Address: University Avenue, Troy, Alabama 36082-0001
Contact: (334) 670-3100
Website: www.troy.edu
Type of School: 4-year, Public
Programs Offered: Associate's degree;Bachelor's degree;Master's degree;Post-master's certificate
Student-to-faculty Ratio: 25 to 1
School Name: Tuskegee University
Address: Kresge Center, 3rd Floor, Tuskegee, Alabama 36088-1920
Contact: (334) 727-8011
Website: www.tuskegee.edu
Type of School: 4-year, Private not-for-profit
Programs Offered: Bachelor's degree;Master's degree
Student-to-faculty Ratio: 9 to 1
School Name: University of Alabama at Birmingham
Address: Administration Bldg Suite 1070, Birmingham, Alabama 35294-0110
Contact: (205) 934-4011
Website: www.uab.edu
Type of School: 4-year, Public
Programs Offered: One but less than two years certificate;Two but less than 4 years certificate;Bachelor's degree;Postbaccalaureate certificate;Master's degree;Post-master's certificate
Student-to-faculty Ratio: 16 to 1
School Name: University of Alabama in Huntsville
Address: 301 Sparkman Dr, Huntsville, Alabama 35899
Contact: (256) 824-6120
Website: www.uah.edu
Type of School: 4-year, Public
Programs Offered: Bachelor's degree;Postbaccalaureate certificate;Master's degree;Post-master's certificate
Student-to-faculty Ratio: 16 to 1
School Name: University of Mobile
Address: 5735 College Parkway Drive, Mobile, Alabama 36613-2842
Contact: (251) 675-5990
Website: www.umobile.edu
Type of School: 4-year, Private not-for-profit
Programs Offered: Associate's degree;Bachelor's degree;Master's degree
Student-to-faculty Ratio: 14 to 1
School Name: University of North Alabama
Address: One Harrison Plaza, Florence, Alabama 35632-0001
Contact: (256) 765-4100
Website: www.una.edu
Type of School: 4-year, Public
Programs Offered: Bachelor's degree;Master's degree;Post-master's certificate
Student-to-faculty Ratio: 21 to 1
School Name:University of South Alabama
Address:307 N University Blvd, Mobile, Alabama 36688-0002
Contact:(251) 460-6101
Website:www.southalabama.edu
Type of School:4-year, Public
Programs Offered:Less than one year certificate;One but less than two years certificate;Two but less than 4 years certificate;Bachelor's degree;Postbaccalaureate certificate;Master's degree;Post-master's certificate
Student-to-faculty Ratio:24 to 1
School Name:University of West Alabama
Address:Station One, Livingston, Alabama 35470
Contact:(205) 652-3400
Website:www.uwa.edu
Type of School:4-year, Public
Programs Offered:Associate's degree;Bachelor's degree;Master's degree;Other degree
Student-to-faculty Ratio:16 to 1
School Name: Virginia College-Montgomery
Address: 6200 Atlanta Highway, Montgomery, Alabama 36117-2800
Contact: (334) 277-3390 x2901
Website:
Type of School: 2-year, Private for-profit
Programs Offered: Two but less than 4 years certificate
Student-to-faculty Ratio: 33 to 1
Source: http://www.bls.gov/oes/