Featured Programs
Sponsored Schools
Nursing Career Info
Featured Article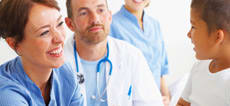 Demand for Nurses
Nurses may be the most in-demand health care position in the country.
Nursing Schools in Iowa
Featured Nursing College
Request Information
Sponsored Schools
Employment: 30,750
Hourly Mean Wage: $24.97
Annual Mean Wage: $51,930
There's a lot of great reasons to launch a nursing career in Iowa. For one, the cost of living is among the lowest in the nation, meaning your paycheck as a nurse will go farther here than most other states. Secondly, Iowa has one of the lowest unemployment rates in the nation—6.9 percent in April 2010 compared to a national jobless rate hovering close to 10 percent. Third, nurses are very high in demand in this Midwestern state. While it can be tricky to get into nursing school here due in part to a shortage of nursing faculty, those who do complete accredited nursing programs generally do not have to wait long before finding gainful employment. Finally, Iowa reports a very low level of crime compared to other states, helping to make the Hawkeye State a great place for a nurse to raise a family.
Qualified nurses will be needed in Iowa's hospitals, clinics, skilled nursing facilities, doctor's offices and home health care centers. The most highly sought-after nursing jobs in Iowa are concentrated in and around the major population centers, such as Des Moines, Cedar Rapids, Davenport and Sioux City. Some of the largest and best-known employers of registered nurses in Iowa include: Iowa Health (which serves 1 in 3 patients in Iowa), University of Iowa Hospitals & Clinics, and Mercy Medical Center–Des Moines. Those who want to become nurses in Iowa can get information about state licensure through the Iowa Board of Nursing, which also maintains a website with a helpful listing of accredited nursing programs in the state. The Iowa Nurses Association is the professional organization that represents the state's nurses, and it maintains a website where RNs here can connect with one another, search for continuing education opportunities, and keep up to date on policy issues relevant to Iowa's nurses.
School Name:Allen College
Address:1990 Heath St, Waterloo, Iowa 50703-1999
Contact:(319) 226-2000
Website:www.allencollege.edu
Type of School:4-year, Private not-for-profit
Programs Offered:One but less than two years certificate;Associate's degree;Bachelor's degree;Master's degree;Post-master's certificate
Student-to-faculty Ratio:9 to 1
School Name:Briar Cliff University
Address:3303 Rebecca St, Sioux City, Iowa 51104
Contact:(712) 279-5321
Website:www.briarcliff.edu
Type of School:4-year, Private not-for-profit
Programs Offered:Associate's degree;Bachelor's degree;Postbaccalaureate certificate;Master's degree;Post-master's certificate
Student-to-faculty Ratio:14 to 1
School Name:Clarke College
Address:1550 Clarke Dr, Dubuque, Iowa 52001-3198
Contact:(563) 588-6300
Website:www.clarke.edu
Type of School:4-year, Private not-for-profit
Programs Offered:Associate's degree;Bachelor's degree;Master's degree;Post-master's certificate
Student-to-faculty Ratio:8 to 1
School Name:Coe College
Address:1220 First Ave NE, Cedar Rapids, Iowa 52402-5092
Contact:(319) 399-8000
Website:www.coe.edu
Type of School:4-year, Private not-for-profit
Programs Offered:Bachelor's degree;Master's degree
Student-to-faculty Ratio:11 to 1
School Name:Des Moines Area Community College
Address:2006 Ankeny Blvd, Ankeny, Iowa 50023-3993
Contact:(515) 964-6241
Website:www.dmacc.edu
Type of School:2-year, Public
Programs Offered:Less than one year certificate;One but less than two years certificate;Associate's degree
Student-to-faculty Ratio:34 to 1
School Name:Dordt College
Address:498 4th Ave NE, Sioux Center, Iowa 51250-1697
Contact:(712) 722-6000
Website:www.dordt.edu
Type of School:4-year, Private not-for-profit
Programs Offered:Associate's degree;Bachelor's degree;Master's degree
Student-to-faculty Ratio:16 to 1
School Name:Eastern Iowa Community College District
Address:306 W River Dr, Davenport, Iowa 52801-1221
Contact:(563) 336-3300
Website:www.eicc.edu
Type of School:2-year, Public
Programs Offered:Less than one year certificate;One but less than two years certificate;Associate's degree
Student-to-faculty Ratio:16 to 1
School Name:Ellsworth Community College
Address:1100 College Ave, Iowa Falls, Iowa 50126
Contact:(800) 322-9235
Website:www.ellsworthcollege.com
Type of School:2-year, Public
Programs Offered:Less than one year certificate;One but less than two years certificate;Associate's degree
Student-to-faculty Ratio:23 to 1
School Name:Graceland University-Lamoni
Address:1 University Place, Lamoni, Iowa 50140
Contact:(641) 784-5000
Website:www.graceland.edu
Type of School:4-year, Private not-for-profit
Programs Offered:Bachelor's degree;Master's degree;Post-master's certificate
Student-to-faculty Ratio:17 to 1
School Name:Grand View University
Address:1200 Grandview Ave, Des Moines, Iowa 50316
Contact:(515) 263-2800
Website:www.grandview.edu
Type of School:4-year, Private not-for-profit
Programs Offered:Less than one year certificate;Associate's degree;Bachelor's degree;Postbaccalaureate certificate;Master's degree
Student-to-faculty Ratio:14 to 1
School Name:Hawkeye Community College
Address:1501 E Orange Rd, Waterloo, Iowa 50701
Contact:(319) 296-2320
Website:www.hawkeyecollege.edu
Type of School:2-year, Public
Programs Offered:Less than one year certificate;One but less than two years certificate;Associate's degree
Student-to-faculty Ratio:17 to 1
School Name:Indian Hills Community College
Address:525 Grandview, Ottumwa, Iowa 52501
Contact:(641) 683-5111
Website:www.indianhills.edu
Type of School:2-year, Public
Programs Offered:Less than one year certificate;One but less than two years certificate;Associate's degree
Student-to-faculty Ratio:23 to 1
School Name:Iowa Central Community College
Address:One Triton Circle, Fort Dodge, Iowa 50501
Contact:(515) 576-7201
Website:www.iowacentral.edu
Type of School:2-year, Public
Programs Offered:Less than one year certificate;One but less than two years certificate;Associate's degree
Student-to-faculty Ratio:22 to 1
School Name:Iowa Lakes Community College
Address:19 S 7th St, Estherville, Iowa 51334-2295
Contact:(712) 362-2601
Website:www.iowalakes.edu
Type of School:2-year, Public
Programs Offered:Less than one year certificate;One but less than two years certificate;Associate's degree
Student-to-faculty Ratio:17 to 1
School Name:Iowa Wesleyan College
Address:601 N Main Street, Mount Pleasant, Iowa 52641
Contact:(319) 385-8021
Website:www.iwc.edu
Type of School:4-year, Private not-for-profit
Programs Offered:Bachelor's degree
Student-to-faculty Ratio:10 to 1
School Name:Iowa Western Community College
Address:2700 College Rd, Council Bluffs, Iowa 51503-1057
Contact:(712) 325-3200
Website:iwcc.cc.ia.us
Type of School:2-year, Public
Programs Offered:Less than one year certificate;One but less than two years certificate;Associate's degree
Student-to-faculty Ratio:35 to 1
School Name:Purdue University Global
Address:1801 E Kimberly Rd Ste 1, Davenport, Iowa 52807
Contact:(563) 355-3500
Website:www.kucampus.edu
Type of School:4-year, Private for-profit
Programs Offered:Less than one year certificate;One but less than two years certificate;Associate's degree;Bachelor's degree;Postbaccalaureate certificate;Master's degree;Other degree
Student-to-faculty Ratio:16 to 1
School Name:Purdue University Global-Cedar Falls Campus
Address:7009 Nordic Drive, Cedar Falls, Iowa 50613
Contact:(319) 277-0220
Website:www.kucampus.edu/kucampusPortal/kucampusCampuses/Iowa/CedarFalls/
Type of School:4-year, primarily associate's, Private for-profit
Programs Offered:Less than one year certificate;One but less than two years certificate;Associate's degree;Bachelor's degree
Student-to-faculty Ratio:18 to 1
School Name:Purdue University Global-Cedar Rapids Campus
Address:3165 Edgewood Parkway SW, Cedar Rapids, Iowa 52404
Contact:(319) 363-0481
Website:www.kucampus.edu/kucampusPortal/kucampusCampuses/Iowa/CedarRapids/
Type of School:4-year, primarily associate's, Private for-profit
Programs Offered:Less than one year certificate;One but less than two years certificate;Associate's degree;Bachelor's degree
Student-to-faculty Ratio:18 to 1
School Name:Purdue University Global-Des Moines Campus
Address:4655 121st Street, Urbandale, Iowa 50323
Contact:(515) 727-2100
Website:www.hamiltonia.edu
Type of School:4-year, primarily associate's, Private for-profit
Programs Offered:Less than one year certificate;One but less than two years certificate;Associate's degree;Bachelor's degree
Student-to-faculty Ratio:21 to 1
School Name:Purdue University Global-Mason City Campus
Address:Plaza West 2570 4th Street SW, Mason City, Iowa 50401
Contact:(641) 423-2530
Website:www.kucampus.edu/kucampusPortal/kucampusCampuses/Iowa/MasonCity/
Type of School:4-year, primarily associate's, Private for-profit
Programs Offered:Less than one year certificate;One but less than two years certificate;Associate's degree;Bachelor's degree
Student-to-faculty Ratio:13 to 1
School Name:Kirkwood Community College
Address:6301 Kirkwood Blvd SW, Cedar Rapids, Iowa 52406-2068
Contact:(319) 398-5411
Website:www.kirkwood.edu
Type of School:2-year, Public
Programs Offered:Less than one year certificate;One but less than two years certificate;Associate's degree
Student-to-faculty Ratio:24 to 1
School Name:Luther College
Address:700 College Drive, Decorah, Iowa 52101-1045
Contact:(563) 387-2000
Website:www.luther.edu
Type of School:4-year, Private not-for-profit
Programs Offered:Bachelor's degree
Student-to-faculty Ratio:12 to 1
School Name:Marshalltown Community College
Address:3700 S Center St, Marshalltown, Iowa 50158
Contact:(641) 752-7106
Website:www.iavalley.edu/mcc/
Type of School:2-year, Public
Programs Offered:Less than one year certificate;One but less than two years certificate;Associate's degree
Student-to-faculty Ratio:28 to 1
School Name:Mercy College of Health Sciences
Address:928 Sixth Ave, Des Moines, Iowa 50309-1239
Contact:(515) 643-3180
Website:www.mchs.edu
Type of School:4-year, primarily associate's, Private not-for-profit
Programs Offered:Less than one year certificate;One but less than two years certificate;Associate's degree;Bachelor's degree
Student-to-faculty Ratio:11 to 1
School Name:Morningside College
Address:1501 Morningside Ave, Sioux City, Iowa 51106-1751
Contact:(712) 274-5000
Website:www.morningside.edu
Type of School:4-year, Private not-for-profit
Programs Offered:Bachelor's degree;Master's degree
Student-to-faculty Ratio:13 to 1
School Name:Mount Mercy College
Address:1330 Elmhurst Dr NE, Cedar Rapids, Iowa 52402-4797
Contact:(319) 363-8213
Website:www.mtmercy.edu
Type of School:4-year, Private not-for-profit
Programs Offered:Bachelor's degree;Master's degree
Student-to-faculty Ratio:11 to 1
School Name:North Iowa Area Community College
Address:500 College Dr, Mason City, Iowa 50401
Contact:(641) 423-1264
Website:www.niacc.edu
Type of School:2-year, Public
Programs Offered:Less than one year certificate;One but less than two years certificate;Associate's degree
Student-to-faculty Ratio:22 to 1
School Name:Northeast Iowa Community College-Calmar
Address:1625 Hwy 150, Calmar, Iowa 52132-0400
Contact:(563) 562-3263
Website:www.nicc.edu
Type of School:2-year, Public
Programs Offered:Less than one year certificate;One but less than two years certificate;Associate's degree
Student-to-faculty Ratio:16 to 1
School Name:Northwest Iowa Community College
Address:603 W Park St, Sheldon, Iowa 51201
Contact:(712) 324-5061
Website:www.nwicc.edu
Type of School:2-year, Public
Programs Offered:One but less than two years certificate;Associate's degree
Student-to-faculty Ratio:12 to 1
School Name:Northwestern College
Address:101 Seventh St SW, Orange City, Iowa 51041
Contact:(712) 707-7000
Website:www.nwciowa.edu/
Type of School:4-year, Private not-for-profit
Programs Offered:Bachelor's degree
Student-to-faculty Ratio:12 to 1
School Name:Saint Ambrose University
Address:518 W Locust St, Davenport, Iowa 52803-2898
Contact:(563) 333-6000
Website:www.sau.edu
Type of School:4-year, Private not-for-profit
Programs Offered:Less than one year certificate;One but less than two years certificate;Bachelor's degree;Postbaccalaureate certificate;Master's degree;Post-master's certificate
Student-to-faculty Ratio:11 to 1
School Name:Southeastern Community College
Address:1500 West Agency Road, West Burlington, Iowa 52655-0180
Contact:(319) 752-2731
Website:www.scciowa.edu
Type of School:2-year, Public
Programs Offered:Less than one year certificate;One but less than two years certificate;Associate's degree
Student-to-faculty Ratio:26 to 1
School Name:Southwestern Community College
Address:1501 W. Townline Street, Creston, Iowa 50801
Contact:(641) 782-7081 x420
Website:www.swcciowa.edu
Type of School:2-year, Public
Programs Offered:Less than one year certificate;One but less than two years certificate;Associate's degree
Student-to-faculty Ratio:13 to 1
School Name:St Luke's College
Address:2720 Stone Park Blvd, Sioux City, Iowa 51104-0263
Contact:(712) 279-3149
Website:www.stlukescollege.edu
Type of School:2-year, Private not-for-profit
Programs Offered:Less than one year certificate;Associate's degree;Two but less than 4 years certificate
Student-to-faculty Ratio:6 to 1
School Name:University of Dubuque
Address:2000 University Ave, Dubuque, Iowa 52001
Contact:(563) 589-3000
Website:www.dbq.edu
Type of School:4-year, Private not-for-profit
Programs Offered:Associate's degree;Bachelor's degree;Master's degree
Student-to-faculty Ratio:13 to 1
School Name:University of Iowa
Address:101 Jessup Hall, Iowa City, Iowa 52242-1316
Contact:(319) 335-3500
Website:www.uiowa.edu
Type of School:4-year, Public
Programs Offered:Two but less than 4 years certificate;Bachelor's degree;Postbaccalaureate certificate;Master's degree;Post-master's certificate
Student-to-faculty Ratio:16 to 1
School Name:Upper Iowa University
Address:605 Washington St, Fayette, Iowa 52142-1857
Contact:(563) 425-5200
Website:www.uiu.edu
Type of School:4-year, Private not-for-profit
Programs Offered:Less than one year certificate;Associate's degree;Bachelor's degree;Master's degree
Student-to-faculty Ratio:19 to 1
School Name:Western Iowa Tech Community College
Address:4647 Stone Ave, Sioux City, Iowa 51102-5199
Contact:(712) 274-6400
Website:www.witcc.edu
Type of School:2-year, Public
Programs Offered:Less than one year certificate;One but less than two years certificate;Associate's degree
Student-to-faculty Ratio:20 to 1
Source: http://www.bls.gov/oes/