Featured Programs
Sponsored Schools
Nursing Career Info
Featured Article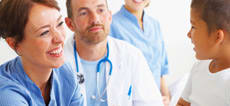 Demand for Nurses
Nurses may be the most in-demand health care position in the country.
Nursing Schools in Massachusetts
Featured Nursing College
Request Information
Sponsored Schools
Employment: 83,060
Hourly Mean Wage: $39.32
Annual Mean Wage: $81,780
The Commonwealth of Massachusetts is an excellent place both to live and to start a career in nursing. Not only does Massachusetts report the highest average annual salaries for nurses in the New England region, but it also reports the highest nursing salaries of any state in the U.S. except for California, according to U.S. labor data. While Massachusetts has suffered heavy job losses during the recession along with the rest of the nation, the good news is that the health care industry here has not taken as hard of a hit. In fact, it is one of only two growing industries in the Bay State. Besides the positive job market for nurses here, those working here also get to enjoy beautiful beaches along the eastern coastline, as well as scenic mountains perfect for skiing and hiking if you head west.
Qualified nurses are needed in Massachusetts' hospitals, outpatient clinics, doctor's offices, nursing homes and home health care agencies. The most highly sought-after nursing jobs in Massachusetts are concentrated in and around the major population centers, such as the Boston metro area, Worcester, Springfield, Lowell and Cambridge. Some of the largest and best-known employers of registered nurses in Massachusetts include: Partners Healthcare, Faulkner Hospital/ Brigham & Women's Health Care, McLean Hospital, UMass Memorial Health Care, Berkshire Health Systems, Children's Hospital Boston and the Dana-Farber Cancer Institute. Those who want to become nurses in Massachusetts can get information about state licensure through the Massachusetts Board of Registration in Nursing. The Massachusetts Nurses Association is the professional organization that represents the state's nurses, and it maintains a website where RNs here can search for jobs, connect with one another, find continuing education opportunities, and keep up to date on policy issues relevant to Massachusetts' nurses.
School Name:American International College
Address:1000 State Street, Springfield, Massachusetts 01109
Contact:(413) 737-7000
Website:www.aic.edu
Type of School:4-year, Private not-for-profit
Programs Offered:Associate's degree;Bachelor's degree;Master's degree;Post-master's certificate
Student-to-faculty Ratio:18 to 1
School Name:Anna Maria College
Address:50 Sunset Lane, Paxton, Massachusetts 01612-1198
Contact:(508) 849-3300
Website:www.annamaria.edu
Type of School:4-year, Private not-for-profit
Programs Offered:Associate's degree;Bachelor's degree;Postbaccalaureate certificate;Master's degree;Post-master's certificate
Student-to-faculty Ratio:11 to 1
School Name:Atlantic Union College
Address:338 Main St, South Lancaster, Massachusetts 01561-1000
Contact:(978) 368-2000
Website:www.auc.edu
Type of School:4-year, Private not-for-profit
Programs Offered:One but less than two years certificate;Associate's degree;Bachelor's degree;Postbaccalaureate certificate;Master's degree
Student-to-faculty Ratio:25 to 1
School Name:Becker College
Address:61 Sever St, Worcester, Massachusetts 01609-2165
Contact:(508) 791-9241
Website:www.becker.edu
Type of School:4-year, Private not-for-profit
Programs Offered:Associate's degree;Bachelor's degree
Student-to-faculty Ratio:21 to 1
School Name:Berkshire Community College
Address:1350 West Street, Pittsfield, Massachusetts 01201-5786
Contact:(413) 499-4660
Website:www.berkshirecc.edu
Type of School:2-year, Public
Programs Offered:Less than one year certificate;One but less than two years certificate;Associate's degree
Student-to-faculty Ratio:15 to 1
School Name:Blue Hills Regional Technical School
Address:800 Randolph St, Canton, Massachusetts 02021
Contact:(781) 828-5800 x229
Website:www.bluehills.org
Type of School:< 2-year, Public
Programs Offered:One but less than two years certificate
Student-to-faculty Ratio:10 to 1
School Name:Bristol Community College
Address:777 Elsbree St, Fall River, Massachusetts 02720-7395
Contact:(508) 678-2811
Website:bristolcc.edu/
Type of School:2-year, Public
Programs Offered:Less than one year certificate;Associate's degree
Student-to-faculty Ratio:21 to 1
School Name:Bunker Hill Community College
Address:250 New Rutherford Ave, Boston, Massachusetts 02129-2925
Contact:(617) 228-2000
Website:www.bhcc.mass.edu
Type of School:2-year, Public
Programs Offered:Less than one year certificate;Associate's degree
Student-to-faculty Ratio:22 to 1
School Name:Cambridge College
Address:1000 Massachusetts Avenue, Cambridge, Massachusetts 02138
Contact:(617) 868-1000
Website:www.cambridgecollege.edu
Type of School:4-year, Private not-for-profit
Programs Offered:Bachelor's degree;Master's degree;Post-master's certificate
Student-to-faculty Ratio:17 to 1
School Name:Cape Cod Community College
Address:2240 Iyannough Rd, West Barnstable, Massachusetts 02668-1599
Contact:(508) 362-2131
Website:www.capecod.edu
Type of School:2-year, Public
Programs Offered:Less than one year certificate;Associate's degree
Student-to-faculty Ratio:17 to 1
School Name:College of Our Lady of the Elms
Address:291 Springfield St, Chicopee, Massachusetts 01013
Contact:(413) 594-2761
Website:www.elms.edu
Type of School:4-year, Private not-for-profit
Programs Offered:One but less than two years certificate;Associate's degree;Bachelor's degree;Master's degree;Post-master's certificate
Student-to-faculty Ratio:11 to 1
School Name:Curry College
Address:1071 Blue Hill Ave, Milton, Massachusetts 02186-2395
Contact:(617) 333-2900
Website:www.curry.edu
Type of School:4-year, Private not-for-profit
Programs Offered:Bachelor's degree;Master's degree
Student-to-faculty Ratio:11 to 1
School Name:Diman Regional Technical Institute
Address:251 Stonehaven Rd, Fall River, Massachusetts 02723
Contact:(508) 678-2891 x1320
Website:dimanregional.org
Type of School:< 2-year, Public
Programs Offered:One but less than two years certificate
Student-to-faculty Ratio:6 to 1
School Name:Emmanuel College
Address:400 The Fenway, Boston, Massachusetts 02115
Contact:(617) 735-9715
Website:www.emmanuel.edu
Type of School:4-year, Private not-for-profit
Programs Offered:Bachelor's degree;Postbaccalaureate certificate;Master's degree;Post-master's certificate
Student-to-faculty Ratio:14 to 1
School Name:Endicott College
Address:376 Hale Street, Beverly, Massachusetts 01915
Contact:(978) 927-0585
Website:www.endicott.edu
Type of School:4-year, Private not-for-profit
Programs Offered:Associate's degree;Bachelor's degree;Postbaccalaureate certificate;Master's degree
Student-to-faculty Ratio:18 to 1
School Name:Fitchburg State College
Address:160 Pearl St, Fitchburg, Massachusetts 01420-2697
Contact:(978) 345-2151
Website:www.fsc.edu
Type of School:4-year, Public
Programs Offered:Less than one year certificate;Bachelor's degree;Postbaccalaureate certificate;Master's degree;Post-master's certificate
Student-to-faculty Ratio:16 to 1
School Name:Framingham State College
Address:100 State Street, Framingham, Massachusetts 01701-9101
Contact:(508) 620-1220
Website:www.framingham.edu
Type of School:4-year, Public
Programs Offered:Bachelor's degree;Postbaccalaureate certificate;Master's degree
Student-to-faculty Ratio:17 to 1
School Name:Greenfield Community College
Address:One College Dr, Greenfield, Massachusetts 01301-9739
Contact:(413) 775-1000
Website:www.gcc.mass.edu
Type of School:2-year, Public
Programs Offered:Less than one year certificate;One but less than two years certificate;Associate's degree
Student-to-faculty Ratio:14 to 1
School Name:Holyoke Community College
Address:303 Homestead Ave, Holyoke, Massachusetts 01040
Contact:(413) 552-2001
Website:www.hcc.edu
Type of School:2-year, Public
Programs Offered:Less than one year certificate;One but less than two years certificate;Associate's degree
Student-to-faculty Ratio:19 to 1
School Name:Laboure College
Address:2120 Dorchester Ave, Boston, Massachusetts 02124-5698
Contact:(617) 296-8300
Website:www.laboure.edu
Type of School:4-year, primarily associate's, Private not-for-profit
Programs Offered:Less than one year certificate;One but less than two years certificate;Associate's degree;Two but less than 4 years certificate;Bachelor's degree
Student-to-faculty Ratio:5 to 1
School Name:Lawrence Memorial Hospital School of Nursing
Address:170 Governors Ave, Medford, Massachusetts 02155
Contact:(781) 306-6600
Website:www.lmregisnurse.org
Type of School:2-year, Private not-for-profit
Programs Offered:Associate's degree
Student-to-faculty Ratio:7 to 1
School Name:Massachusetts Bay Community College
Address:50 Oakland St, Wellesley Hills, Massachusetts 02481-5399
Contact:(781) 239-3000
Website:www.massbay.edu
Type of School:2-year, Public
Programs Offered:Less than one year certificate;One but less than two years certificate;Associate's degree
Student-to-faculty Ratio:18 to 1
School Name:Massachusetts College of Pharmacy and Health Sciences
Address:179 Longwood Ave, Boston, Massachusetts 02115-5896
Contact:(617) 732-2800
Website:www.mcphs.edu
Type of School:4-year, Private not-for-profit
Programs Offered:Less than one year certificate;Bachelor's degree;Postbaccalaureate certificate;Master's degree
Student-to-faculty Ratio:21 to 1
School Name:Massasoit Community College
Address:One Massasoit Boulevard, Brockton, Massachusetts 02302-3996
Contact:(508) 588-9100
Website:www.massasoit.mass.edu
Type of School:2-year, Public
Programs Offered:Less than one year certificate;One but less than two years certificate;Associate's degree
Student-to-faculty Ratio:20 to 1
School Name:Medical Professional Institute
Address:One Massasoit Boulevard, Brockton, Massachusetts 02302-3996
Contact:(781) 397-6822
Website:www.mpi.edu
Type of School:< 2-year, Private for-profit
Programs Offered:Less than one year certificate;One but less than two years certificate
Student-to-faculty Ratio:13 to 1
School Name:MGH Institute of Health Professions
Address:36 1st Avenue, Boston, Massachusetts 02129-4557
Contact:(617) 726-3140
Website:www.mghihp.edu
Type of School:4-year, Private not-for-profit
Programs Offered:Bachelor's degree;Postbaccalaureate certificate;Master's degree;Post-master's certificate
Student-to-faculty Ratio:1 to 1
School Name:Middlesex Community College
Address:Springs Rd, Bedford, Massachusetts 01730-9124
Contact:(978) 656-3200
Website:www.middlesex.mass.edu
Type of School:2-year, Public
Programs Offered:Less than one year certificate;One but less than two years certificate;Associate's degree
Student-to-faculty Ratio:19 to 1
School Name:Monty Tech
Address:1050 Westminster St, Fitchburg, Massachusetts 01420
Contact:(978) 345-9200 x5221
Website:www.montytech.net
Type of School:< 2-year, Public
Programs Offered:One but less than two years certificate
Student-to-faculty Ratio:9 to 1
School Name:Mount Wachusett Community College
Address:444 Green St, Gardner, Massachusetts 01440-1000
Contact:(978) 632-6600
Website:WWW.MWCC.MASS.EDU
Type of School:2-year, Public
Programs Offered:Less than one year certificate;One but less than two years certificate;Associate's degree
Student-to-faculty Ratio:23 to 1
div class="school-box">
School Name:North Shore Community College
Address:1 Ferncroft Rd, Danvers, Massachusetts 01923-0840
Contact:(508) 762-4000
Website:www.northshore.edu
Type of School:2-year, Public
Programs Offered:Less than one year certificate;One but less than two years certificate;Associate's degree
Student-to-faculty Ratio:16 to 1
School Name:Northeastern University
Address:360 Huntington Ave, Boston, Massachusetts 02115-5000
Contact:(617) 373-2000
Website:www.northeastern.edu
Type of School:4-year, Private not-for-profit
Programs Offered:One but less than two years certificate;Associate's degree;Two but less than 4 years certificate;Bachelor's degree;Postbaccalaureate certificate;Master's degree;Post-master's certificate
Student-to-faculty Ratio:18 to 1
div class="school-box">
School Name:Northern Essex Community College
Address:100 Elliott Street, Haverhill, Massachusetts 01830-2399
Contact:(978) 556-3000
Website:www.necc.mass.edu/
Type of School:2-year, Public
Programs Offered:Less than one year certificate;One but less than two years certificate;Associate's degree
Student-to-faculty Ratio:17 to 1
School Name:Quincy College
Address:24 Saville Ave, Quincy, Massachusetts 02169
Contact:(800) 698-1700
Website:www.quincycollege.edu
Type of School:2-year, Public
Programs Offered:Less than one year certificate;One but less than two years certificate;Associate's degree
Student-to-faculty Ratio:19 to 1
div class="school-box">
School Name:Quinsigamond Community College
Address:670 West Boylston Street, Worcester, Massachusetts 01606-2092
Contact:(508) 853-2300
Website:www.qcc.edu
Type of School:2-year, Public
Programs Offered:Less than one year certificate;One but less than two years certificate;Associate's degree
Student-to-faculty Ratio:21 to 1
School Name:Regis College
Address:235 Wellesley St, Weston, Massachusetts 02493-1571
Contact:(781) 768-7000
Website:www.regiscollege.edu
Type of School:4-year, Private not-for-profit
Programs Offered:Associate's degree;Bachelor's degree;Master's degree;Post-master's certificate
Student-to-faculty Ratio:10 to 1
div class="school-box">
School Name:Roxbury Community College
Address:1234 Columbus Ave, Roxbury Crossing, Massachusetts 02120-3400
Contact:(617) 427-0060
Website:www.rcc.mass.edu
Type of School:2-year, Public
Programs Offered:Less than one year certificate;One but less than two years certificate;Associate's degree;Two but less than 4 years certificate
Student-to-faculty Ratio:17 to 1
School Name:Salem State College
Address:352 Lafayette St, Salem, Massachusetts 01970
Contact:(978) 542-6000
Website:www.salemstate.edu
Type of School:4-year, Public
Programs Offered:Bachelor's degree;Postbaccalaureate certificate;Master's degree;Post-master's certificate
Student-to-faculty Ratio:15 to 1
div class="school-box">
School Name:Shawsheen Valley Regional Vocational Technical School
Address:100 Cook St, Billerica, Massachusetts 01821-5499
Contact:(978) 667-2111
Website:www.shawsheen.tec.ma.us
Type of School:< 2-year, Public
Programs Offered:One but less than two years certificate
Student-to-faculty Ratio:8 to 1
School Name:Signature Healthcare Brockton Hospital School of Nursing
Address:680 Centre St, Brockton, Massachusetts 02302-1905
Contact:(508) 941-7049
Website:www.signature-healthcare.org
Type of School:2-year, Private not-for-profit
Programs Offered:Two but less than 4 years certificate
Student-to-faculty Ratio:13 to 1
div class="school-box">
School Name:Simmons College
Address:300 The Fenway, Boston, Massachusetts 02115-5898
Contact:(617) 521-2000
Website:www.simmons.edu
Type of School:4-year, Private not-for-profit
Programs Offered:Bachelor's degree;Postbaccalaureate certificate;Master's degree;Post-master's certificate
Student-to-faculty Ratio:15 to 1
School Name:Southeastern Technical Institute
Address:250 Foundry St, South Easton, Massachusetts 02375
Contact:(508) 238-1860
Website:www.sti-tech.info
Type of School:< 2-year, Public
Programs Offered:Less than one year certificate;One but less than two years certificate
Student-to-faculty Ratio:10 to 1
div class="school-box">
School Name:Springfield Technical Community College
Address:1 Armory Sq, Springfield, Massachusetts 01105-1296
Contact:(413) 781-7822
Website:www.stcc.edu
Type of School:2-year, Public
Programs Offered:Less than one year certificate;One but less than two years certificate;Associate's degree
Student-to-faculty Ratio:16 to 1
School Name:University of Massachusetts Amherst
Address:Amherst, Massachusetts 01003
Contact:(413) 545-0111
Website:www.umass.edu
Type of School:4-year, Public
Programs Offered:Less than one year certificate;Associate's degree;Bachelor's degree;Postbaccalaureate certificate;Master's degree
Student-to-faculty Ratio:18 to 1
div class="school-box">
School Name:University of Massachusetts Medical School Worcester
Address:55 Lake Ave North, Worcester, Massachusetts 01655
Contact:(508) 856-2000
Website:www.umassmed.edu
Type of School:4-year, Public
Programs Offered:Master's degree;Post-master's certificate
Student-to-faculty Ratio:
School Name:University of Massachusetts-Boston
Address:100 Morrissey Blvd, Boston, Massachusetts 02125-3393
Contact:(617) 287-5000
Website:www.umb.edu
Type of School:4-year, Public
Programs Offered:Less than one year certificate;Bachelor's degree;Postbaccalaureate certificate;Master's degree;Post-master's certificate
Student-to-faculty Ratio:18 to 1
div class="school-box">
School Name:University of Massachusetts-Dartmouth
Address:285 Old Westport Rd, North Dartmouth, Massachusetts 02747-2300
Contact:(508) 999-8000
Website:www.umassd.edu
Type of School:4-year, Public
Programs Offered:Bachelor's degree;Postbaccalaureate certificate;Master's degree;Post-master's certificate
Student-to-faculty Ratio:18 to 1
School Name:University of Massachusetts-Lowell
Address:1 University Ave, Lowell, Massachusetts 01854-5104
Contact:(978) 934-4000
Website:WWW.UML.EDU
Type of School:4-year, Public
Programs Offered:Associate's degree;Bachelor's degree;Master's degree;Post-master's certificate
Student-to-faculty Ratio:15 to 1
div class="school-box">
School Name:Upper Cape Cod Regional Technical School
Address:220 Sandwich Road, Bourne, Massachusetts 02532
Contact:(508) 759-7711 x285
Website:www.uppercapetech.com
Type of School:< 2-year, Public
Programs Offered:One but less than two years certificate
Student-to-faculty Ratio:11 to 1
School Name:Upper Cape Cod Regional Technical School
Address:486 Chandler St, Worcester, Massachusetts 01602-2597
Contact:(508) 929-8000
Website:www.worcester.edu
Type of School:4-year, Public
Programs Offered:Bachelor's degree;Postbaccalaureate certificate;Master's degree;Post-master's certificate
Student-to-faculty Ratio:17 to 1
Source: http://www.bls.gov/oes/