Featured Programs
Sponsored Schools
Nursing Career Info
Featured Article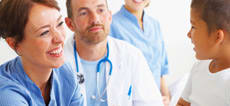 Demand for Nurses
Nurses may be the most in-demand health care position in the country.
Nursing Schools in Michigan
Featured Nursing College
Request Information
Sponsored Schools
Employment: 84,620
Hourly Mean Wage: $30.82
Annual Mean Wage: $64,100
The Great Lakes state of Michigan is a good place to launch a nursing career, even though its reputation precedes it as the state hardest hit by the recession. Unemployment was at an alarming 14 percent here as of April 2010. The good news is that the health care industry is one of the few strong industries left here, meaning most nurses still remain gainfully employed. Michigan may have a tougher job market than in other states, but qualified nurses who dedicate themselves to the job hunt shouldn't remain unemployed for long. After all, nursing has long been deemed a recession-proof job. Those who maintain their nursing license here may soon find themselves in a much better nursing job climate anyway, as current estimates show Michigan is on its way to having a nursing shortage of 18,000 by 2015. In the meanwhile, qualified nurses are currently needed in Michigan's hospitals, outpatient clinics, doctor's offices, nursing homes and home health care services.
The most highly sought-after nursing jobs in Michigan are concentrated in and around the major population centers, such as the Detroit metro area, Grand Rapids, Warren and Sterling Heights areas. Some of the largest and best-known employers of registered nurses in Michigan include: the University of Michigan Health System, the Henry Ford Health Care System, Detroit Medical Center & DMC Hospitals, Lakeland Healthcare, Beaumont Hospitals, the Oakwood Healthcare System, the St. John Providence Health System, and Trinity Health. Those who want to become nurses in Michigan can get information about state licensure through the Michigan Board of Nursing, which maintains a website listing the state's recognized nursing programs. The Michigan Nurses Association is the professional organization that represents the state's nurses, and it maintains a website where RNs here can connect with each other, find continuing education opportunities, and keep up to date on policy issues relevant to Michigan's nurses.
School Name: Alpena Community College
Address: 665 Johnson St, Alpena, Michigan 49707
Contact: (989) 356-9021
Website: www.alpenacc.edu
Type of School: 2-year, Public
Programs Offered: Less than one year certificate;One but less than two years certificate;Associate's degree
Student-to-faculty Ratio: 15 to 1
School Name: Andrews University
Address: Berrien Springs, Michigan 49104
Contact: (800) 253-2874
Website: www.andrews.edu
Type of School: 4-year, Private not-for-profit
Programs Offered: Associate's degree;Bachelor's degree;Postbaccalaureate certificate;Master's degree;Post-master's certificate
Student-to-faculty Ratio: 11 to 1
School Name: Baker College of Auburn Hills
Address: 1500 University Dr, Auburn Hills, Michigan 48326-2642
Contact: (248) 340-0600
Website: www.baker.edu
Type of School: 4-year, primarily associate's, Private not-for-profit
Programs Offered: Less than one year certificate;One but less than two years certificate;Associate's degree;Bachelor's degree;Postbaccalaureate certificate
Student-to-faculty Ratio: 29 to 1
School Name: Baker College of Cadillac
Address: 9600 E 13th St, Cadillac, Michigan 49601-9600
Contact: (231) 876-3101
Website: www.baker.edu
Type of School: 4-year, primarily associate's, Private not-for-profit
Programs Offered: Less than one year certificate;One but less than two years certificate;Associate's degree;Bachelor's degree;Postbaccalaureate certificate
Student-to-faculty Ratio: 22 to 1
School Name: Baker College of Clinton Township
Address: 34950 Little Mack Ave, Clinton Township, Michigan 48035
Contact: (586) 791-6610
Website: www.baker.edu
Type of School: 4-year, primarily associate's, Private not-for-profit
Programs Offered: Less than one year certificate;One but less than two years certificate;Associate's degree;Bachelor's degree;Postbaccalaureate certificate
Student-to-faculty Ratio: 34 to 1
School Name: Baker College of Flint
Address: 1050 West Bristol Road, Flint, Michigan 48507-9987
Contact: (810) 766-4000
Website: www.baker.edu
Type of School: 4-year, primarily associate's, Private not-for-profit
Programs Offered: Less than one year certificate;One but less than two years certificate;Associate's degree;Bachelor's degree;Postbaccalaureate certificate
Student-to-faculty Ratio: 30 to 1
School Name: Baker College of Muskegon
Address: 1903 Marquette Ave, Muskegon, Michigan 49442
Contact: (231) 777-8800
Website: www.baker.edu
Type of School: 4-year, primarily associate's, Private not-for-profit
Programs Offered: Less than one year certificate;One but less than two years certificate;Associate's degree;Bachelor's degree;Postbaccalaureate certificate
Student-to-faculty Ratio: 41 to 1
School Name: Baker College of Owosso
Address: 1020 S Washington St, Owosso, Michigan 48867
Contact: (989) 729-3300
Website: www.baker.edu
Type of School: 4-year, primarily associate's, Private not-for-profit
Programs Offered: Less than one year certificate;One but less than two years certificate;Associate's degree;Bachelor's degree;Postbaccalaureate certificate
Student-to-faculty Ratio: 40 to 1
School Name: Bay de Noc Community College
Address: 2001 N Lincoln Road, Escanaba, Michigan 49829-2511
Contact: (906) 786-5802
Website: www.baycollege.edu/index.html
Type of School: 2-year, Public
Programs Offered: One but less than two years certificate;Associate's degree
Student-to-faculty Ratio: 20 to 1
School Name: Calvin College
Address: 3201 Burton SE, Grand Rapids, Michigan 49546
Contact: (616) 526-6000
Website: www.calvin.edu
Type of School: 4-year, Private not-for-profit
Programs Offered: Bachelor's degree;Master's degree
Student-to-faculty Ratio: 12 to 1
School Name: Davenport University
Address: 6191 Kraft Avenue S.E., Grand Rapids, Michigan 49512-9396
Contact: (616) 698-7111
Website: www.davenport.edu
Type of School: 4-year, Private not-for-profit
Programs Offered: One but less than two years certificate;Associate's degree;Bachelor's degree;Postbaccalaureate certificate;Master's degree;Post-master's certificate
Student-to-faculty Ratio: 41 to 1
School Name: Delta College
Address: 1961 Delta Road, University Center, Michigan 48710
Contact: (989) 686-9000
Website: www.delta.edu
Type of School: 2-year, Public
Programs Offered: Less than one year certificate;One but less than two years certificate;Associate's degree;Two but less than 4 years certificate
Student-to-faculty Ratio: 21 to 1
School Name: Dorsey Business Schools
Address: 31542 Gratiot, Roseville, Michigan 48066
Contact: (586) 296-3225
Website: www.dorsey.edu
Type of School: < 2-year, Private for-profit
Programs Offered: Less than one year certificate;One but less than two years certificate
Student-to-faculty Ratio: 29 to 1
School Name: Dorsey Business Schools
Address: 33045 Hamilton Court, Ste W200, Farmington Hills, Michigan 48334
Contact: (248) 994-0133
Website: www.dorsey.edu
Type of School: < 2-year, Private for-profit
Programs Offered: Less than one year certificate;One but less than two years certificate
School Name: Dorsey Business Schools
Address: 35005 Michigan Avenue, Wayne, Michigan 48184
Contact: (734) 595-1540
Website: www.dorsey.edu
Type of School: < 2-year, Private for-profit
Programs Offered: Less than one year certificate;One but less than two years certificate
Student-to-faculty Ratio: 19 to 1
School Name: Dorsey Business Schools
Address: 30821 Barrington, Madison Heights, Michigan 48071
Contact: (248) 588-9660
Website: www.dorsey.edu
Type of School: < 2-year, Private for-profit
Programs Offered: Less than one year certificate;One but less than two years certificate
Student-to-faculty Ratio: 23 to 1
School Name: Dorsey Business Schools
Address: 15755 Northline Rd, Southgate, Michigan 48195
Contact: (734) 285-5400
Website: www.dorsey.edu
Type of School: < 2-year, Private for-profit
Programs Offered: Bachelor's degree;Postbaccalaureate certificate;Master's degree;Post-master's certificate
Student-to-faculty Ratio: 26 to 1
School Name: Eastern Michigan University
Address: Ypsilanti, Michigan 48197
Contact: (734) 487-1849
Website: www.emich.edu
Type of School: 4-year, Public
Programs Offered: Less than one year certificate;One but less than two years certificate
Student-to-faculty Ratio: 18 to 1
School Name: Everest Institute-Grand Rapids
Address: 1750 Woodworth St NE, Grand Rapids, Michigan 49525
Contact: (616) 364-8464
Website: www.everest.edu/campus/grand_rapids
Type of School: < 2-year, Private for-profit
Programs Offered: Less than one year certificate;One but less than two years certificate;Associate's degree;Bachelor's degree;Postbaccalaureate certificate;Master's degree
Student-to-faculty Ratio: 40 to 1
School Name: Ferris State University
Address: 1201 S State St, Big Rapids, Michigan 49307-2251
Contact: (231) 591-2000
Website: www.ferris.edu/
Type of School: 4-year, Public
Programs Offered: Associate's degree;Bachelor's degree
Student-to-faculty Ratio: 18 to 1
School Name: Finlandia University
Address: 601 Quincy St, Hancock, Michigan 49930-1832
Contact: (906) 482-5300
Website: www.finlandia.edu
Type of School: 4-year, Private not-for-profit
Programs Offered: Less than one year certificate;One but less than two years certificate;Associate's degree;Two but less than 4 years certificate
Student-to-faculty Ratio: 11 to 1
School Name: Glen Oaks Community College
Address: 62249 Shimmel Rd, Centreville, Michigan 49032-9719
Contact: (269) 467-9945 x0
Website: www.glenoaks.edu
Type of School: 2-year, Public
Programs Offered: One but less than two years certificate;Associate's degree
Student-to-faculty Ratio: 22 to 1
School Name: Gogebic Community College
Address: E 4946 Jackson Rd, Ironwood, Michigan 49938
Contact: (906) 932-4231 x0
Website: www.gogebic.edu
Type of School: 2-year, Public
Programs Offered: Less than one year certificate;One but less than two years certificate;Associate's degree;Two but less than 4 years certificate
Student-to-faculty Ratio: 16 to 1
School Name: Grand Rapids Community College
Address: 143 Bostwick Ave NE, Grand Rapids, Michigan 49503-3295
Contact: (616) 234-4000
Website: www.grcc.edu
Type of School: 2-year, Public
Programs Offered: Bachelor's degree;Postbaccalaureate certificate;Master's degree;Post-master's certificate
Student-to-faculty Ratio: 23 to 1
School Name: Grand Valley State University
Address: 1 Campus Dr, Allendale, Michigan 49401-9403
Contact: (616) 331-2020
Website: www.gvsu.edu
Type of School: 2-year, Public
Programs Offered: Less than one year certificate;One but less than two years certificate;Associate's degree;Two but less than 4 years certificate
Student-to-faculty Ratio: 18 to 1
School Name: Henry Ford Community College
Address: 5101 Evergreen Rd, Dearborn, Michigan 48128-1495
Contact: (313) 845-9600
Website: www.hfcc.edu
Type of School: 2-year, Public
Programs Offered: Bachelor's degree
Student-to-faculty Ratio: 24 to 1
School Name: Hope College
Address: 141 E 12th St, Holland, Michigan 49423
Contact: (616) 395-7000
Website: www.hope.edu
Type of School: 4-year, Private not-for-profit
Programs Offered: Associate's degree
Student-to-faculty Ratio: 11 to 1
School Name: ITT Technical Institute-Canton
Address: 1905 S. Haggerty Rd, Canton, Michigan 48188-2025
Contact: (734) 397-7800
Website: www.itt-tech.edu
Type of School: 2-year, Private for-profit
Programs Offered: Less than one year certificate;One but less than two years certificate;Associate's degree
Student-to-faculty Ratio: 29 to 1
School Name: Jackson Community College
Address: 2111 Emmons Rd, Jackson, Michigan 49201-8399
Contact: (517) 787-0800
Website: www.jccmi.edu
Type of School: 2-year, Public
Programs Offered: Less than one year certificate;One but less than two years certificate;Associate's degree;Two but less than 4 years certificate
Student-to-faculty Ratio: 20 to 1
School Name: Kalamazoo Valley Community College
Address: 6767 West O Ave, Kalamazoo, Michigan 49003-4070
Contact: (269) 488-4100
Website: www.kvcc.edu
Type of School: 2-year, Public
Programs Offered: Less than one year certificate;One but less than two years certificate;Associate's degree;Two but less than 4 years certificate
Student-to-faculty Ratio: 26 to 1
School Name: Kellogg Community College
Address: 450 North Ave, Battle Creek, Michigan 49017-3397
Contact: (269) 965-3931
Website: www.kellogg.edu
Type of School: 2-year, Public
Programs Offered: Less than one year certificate;One but less than two years certificate;Associate's degree
Student-to-faculty Ratio: 18 to 1
School Name: Kirtland Community College
Address: 10775 N Saint Helen Road, Roscommon, Michigan 48653
Contact: (989) 275-5000
Website: www.kirtland.edu
Type of School: 2-year, Public
Programs Offered: Less than one year certificate;One but less than two years certificate;Associate's degree
Student-to-faculty Ratio: 13 to 1
School Name: Lake Michigan College
Address: 2755 E Napier Avenue, Benton Harbor, Michigan 49022-1899
Contact: (269) 927-3571
Website: www.lakemichigancollege.edu
Type of School: 2-year, Public
Programs Offered: Less than one year certificate;One but less than two years certificate;Associate's degree
Student-to-faculty Ratio: 19 to 1
School Name: Lake Superior State University
Address: 650 W Easterday Ave, Sault Ste Marie, Michigan 49783
Contact: (906) 632-6841
Website: www.lssu.edu
Type of School: 4-year, Public
Programs Offered: One but less than two years certificate;Associate's degree;Bachelor's degree;Postbaccalaureate certificate;Master's degree
Student-to-faculty Ratio: 18 to 1
School Name: Lansing Community College
Address: 419 N Capitol Ave, Lansing, Michigan 48901-7210
Contact: (517) 483-1957
Website: www.lansing.cc.mi.us
Type of School: 2-year, Public
Programs Offered: Less than one year certificate;One but less than two years certificate;Associate's degree;Two but less than 4 years certificate
Student-to-faculty Ratio: 14 to 1
School Name: Macomb Community College
Address: 14500 E Twelve Mile Rd, Warren, Michigan 48088-3896
Contact: (586) 445-7999
Website: www.macomb.edu
Type of School: 2-year, Public
Programs Offered: Less than one year certificate;One but less than two years certificate;Associate's degree
Student-to-faculty Ratio: 27 to 1
School Name: Madonna University
Address: 36600 Schoolcraft Rd, Livonia, Michigan 48150-1176
Contact: (734) 432-5300
Website: www.madonna.edu
Type of School: 4-year, Private not-for-profit
Programs Offered: One but less than two years certificate;Associate's degree;Two but less than 4 years certificate;Bachelor's degree;Postbaccalaureate certificate;Master's degree;Post-master's certificate
Student-to-faculty Ratio: 14 to 1
School Name: Michigan Career and Technical Institute
Address: 11611 West Pine Lake Road, Plainwell, Michigan 49080-9254
Contact: (269) 664-4461
Website: www.michigan.gov
Type of School: 2-year, Public
Programs Offered: Less than one year certificate;One but less than two years certificate;Two but less than 4 years certificate
Student-to-faculty Ratio: 9 to 1
School Name: Michigan State University
Address: East Lansing, Michigan 48824-1046
Contact: (517) 355-1855
Website: www.msu.edu
Type of School: 4-year, Public
Programs Offered: One but less than two years certificate;Bachelor's degree;Master's degree;Post-master's certificate
Student-to-faculty Ratio: 17 to 1
School Name: Mid Michigan Community College
Address: 1375 S Clare Ave, Harrison, Michigan 48625-9447
Contact: (989) 386-6622
Website: www.midmich.edu
Type of School: 2-year, Public
Programs Offered: Less than one year certificate;One but less than two years certificate;Associate's degree
Student-to-faculty Ratio: 29 to 1
School Name: Monroe County Community College
Address: 1555 South Raisinville Road, Monroe, Michigan 48161-9746
Contact: (734) 242-7300
Website: www.monroeccc.edu
Type of School: 2-year, Public
Programs Offered: Less than one year certificate;One but less than two years certificate;Associate's degree
Student-to-faculty Ratio: 20 to 1
School Name: Montcalm Community College
Address: 2800 College Dr, Sidney, Michigan 48885-9723
Contact: (989) 328-2111
Website: www.montcalm.edu
Type of School: 2-year, Public
Programs Offered: Less than one year certificate;One but less than two years certificate;Associate's degree;Two but less than 4 years certificate
Student-to-faculty Ratio: 19 to 1
School Name: Mott Community College
Address: 1401 E Court St, Flint, Michigan 48503
Contact: (810) 762-0200
Website: www.mcc.edu
Type of School: 2-year, Public
Programs Offered: Less than one year certificate;One but less than two years certificate;Associate's degree;Two but less than 4 years certificate
Student-to-faculty Ratio: 25 to 1
School Name: Muskegon Community College
Address: 221 S Quarterline Rd, Muskegon, Michigan 49442-1432
Contact: (231) 773-9131
Website: www.muskegoncc.edu
Type of School: 2-year, Public
Programs Offered: Less than one year certificate;One but less than two years certificate;Associate's degree;Two but less than 4 years certificate
Student-to-faculty Ratio: 20 to 1
School Name: North Central Michigan College
Address: 1515 Howard St, Petoskey, Michigan 49770
Contact: (231) 348-6602
Website: www.ncmich.edu
Type of School: 2-year, Public
Programs Offered: Less than one year certificate;One but less than two years certificate;Associate's degree
Student-to-faculty Ratio: 19 to 1
School Name: Northern Michigan University
Address: 1401 Presque Isle Avenue, Marquette, Michigan 49855
Contact: (906) 227-1000
Website: www.nmu.edu
Type of School: 4-year, Public
Programs Offered: Less than one year certificate;One but less than two years certificate;Associate's degree;Bachelor's degree;Postbaccalaureate certificate;Master's degree;Post-master's certificate
Student-to-faculty Ratio: 22 to 1
School Name: Northwestern Michigan College
Address: 1701 E Front St, Traverse City, Michigan 49686
Contact: (231) 995-1000
Website: www.nmc.edu/
Type of School: 2-year, Public
Programs Offered: Less than one year certificate;One but less than two years certificate;Associate's degree;Two but less than 4 years certificate
Student-to-faculty Ratio: 19 to 1
School Name: Oakland Community College
Address: 2480 Opdyke Rd, Bloomfield Hills, Michigan 48304-2266
Contact: (248) 341-2000
Website: www.oaklandcc.edu
Type of School: 2-year, Public
Programs Offered: Less than one year certificate;One but less than two years certificate;Associate's degree
Student-to-faculty Ratio: 29 to 1
School Name: Oakland University
Address: Rochester Hills, Michigan 48309-4401
Contact: (248) 370-2100
Website: www.oakland.edu
Type of School: 4-year, Public
Programs Offered: Bachelor's degree;Postbaccalaureate certificate;Master's degree;Post-master's certificate
Student-to-faculty Ratio: 22 to 1
School Name: Saginaw Valley State University
Address: 7400 Bay Rd, University Center, Michigan 48710
Contact: (989) 964-4000
Website: www.svsu.edu
Type of School: 4-year, Public
Programs Offered: Bachelor's degree;Postbaccalaureate certificate;Master's degree;Post-master's certificate
Student-to-faculty Ratio: 19 to 1
School Name: Schoolcraft College
Address: 18600 Haggerty Road, Livonia, Michigan 48152-2696
Contact: (734) 462-4400
Website: www.schoolcraft.edu
Type of School: 2-year, Public
Programs Offered: One but less than two years certificate;Associate's degree
Student-to-faculty Ratio: 35 to 1
School Name: Siena Heights University
Address: 1247 E. Siena Heights Dr, Adrian, Michigan 49221
Contact: (517) 263-0731
Website: www.sienaheights.edu
Type of School: 4-year, Private not-for-profit
Programs Offered: Associate's degree;Bachelor's degree;Master's degree
Student-to-faculty Ratio: 12 to 1
School Name: Southwestern Michigan College
Address: 58900 Cherry Grove Rd, Dowagiac, Michigan 49047-9793
Contact: (269) 782-1000
Website: www.swmich.edu
Type of School: 2-year, Public
Programs Offered: Less than one year certificate;One but less than two years certificate;Associate's degree
Student-to-faculty Ratio: 20 to 1
School Name: Spring Arbor University
Address: 106 E. Main St, Spring Arbor, Michigan 49283-9799
Contact: (517) 750-1200
Website: www.arbor.edu
Type of School: 4-year, Private not-for-profit
Programs Offered: Associate's degree;Bachelor's degree;Postbaccalaureate certificate;Master's degree
Student-to-faculty Ratio: 15 to 1
School Name: St Clair County Community College
Address: 323 Erie Street, Port Huron, Michigan 48061-5015
Contact: (810) 984-3881
Website: www.sc4.edu
Type of School: 2-year, Public
Programs Offered: One but less than two years certificate;Associate's degree
Student-to-faculty Ratio: 22 to 1
School Name: The Robert B Miller College
Address: 450 North Ave, Battle Creek, Michigan 49017
Contact: (269) 660-8021
Website: www.millercollege.edu
Type of School: 4-year, Private not-for-profit
Programs Offered: Bachelor's degree
Student-to-faculty Ratio: 11 to 1
School Name: University of Detroit Mercy
Address: 4001 W McNichols Rd, Detroit, Michigan 48221-3038
Contact: (313) 993-1000
Website: www.udmercy.edu
Type of School: 4-year, Private not-for-profit
Programs Offered: Less than one year certificate;One but less than two years certificate;Two but less than 4 years certificate;Bachelor's degree;Postbaccalaureate certificate;Master's degree;Post-master's certificate
Student-to-faculty Ratio: 7 to 1
School Name: University of Michigan-Ann Arbor
Address: Ann Arbor, Michigan 48109
Contact: (734) 764-1817
Website: www.umich.edu
Type of School: 4-year, Public
Programs Offered: Bachelor's degree;Postbaccalaureate certificate;Master's degree;Post-master's certificate
Student-to-faculty Ratio: 12 to 1
School Name: University of Michigan-Flint
Address: 303 E Kearsley, Flint, Michigan 48502-1950
Contact: (810) 762-3000
Website: www.umflint.edu
Type of School: 4-year, Public
Programs Offered: Bachelor's degree;Master's degree;Post-master's certificate
Student-to-faculty Ratio: 16 to 1
School Name: University of Phoenix-Metro Detroit Campus
Address: 5480 Corporate Drive Suite 240, Troy, Michigan 48098-2623
Contact: (800) 834-2438
Website: www.phoenix.edu
Type of School: 4-year, Private for-profit
Programs Offered: Less than one year certificate;Bachelor's degree;Postbaccalaureate certificate;Master's degree
Student-to-faculty Ratio: 20 to 1
School Name: University of Phoenix-West Michigan Campus
Address: 318 River Ridge Dr, NW, Grand Rapids, Michigan 49544-1683
Contact: (616) 647-5100
Website: www.phoenix.edu
Type of School: 4-year, Private for-profit
Programs Offered: Bachelor's degree;Master's degree
Student-to-faculty Ratio: 10 to 1
School Name: Washtenaw Community College
Address: 4800 E Huron River Dr, Ann Arbor, Michigan 48105-4800
Contact: (734) 973-3543
Website: www.wccnet.edu
Type of School: 2-year, Public
Programs Offered: Less than one year certificate;One but less than two years certificate;Associate's degree;Two but less than 4 years certificate
Student-to-faculty Ratio: 16 to 1
School Name: Wayne County Community College District
Address: 801 W Fort St, Detroit, Michigan 48226
Contact: (313) 496-2600
Website: www.wcccd.edu
Type of School: 2-year, Public
Programs Offered: Less than one year certificate;One but less than two years certificate;Associate's degree
Student-to-faculty Ratio: 21 to 1
School Name: Wayne State University
Address: 656 West Kirby Street, Detroit, Michigan 48202
Contact: (313) 577-2424
Website: www.wayne.edu
Type of School: 4-year, Public
Programs Offered: Bachelor's degree;Postbaccalaureate certificate;Master's degree;Post-master's certificate
Student-to-faculty Ratio: 17 to 1
School Name: West Shore Community College
Address: 3000 N Stiles Rd, Scottville, Michigan 49454-0277
Contact: (231) 845-6211
Website: www.westshore.edu
Type of School: 2-year, Public
Programs Offered: Less than one year certificate;One but less than two years certificate;Associate's degree
Student-to-faculty Ratio: 17 to 1
School Name: Western Michigan University
Address: 1903 West Michigan Avenue, Kalamazoo, Michigan 49008-5167
Contact: (269) 387-3530
Website: www.wmich.edu
Type of School: 4-year, Public
Programs Offered: Bachelor's degree;Postbaccalaureate certificate;Master's degree;Post-master's certificate
Student-to-faculty Ratio: 19 to 1
Source: http://www.bls.gov/oes/