Featured Programs
Sponsored Schools
Nursing Career Info
Featured Article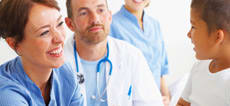 Demand for Nurses
Nurses may be the most in-demand health care position in the country.
Nursing Schools in North Dakota
Featured Nursing College
Request Information
Sponsored Schools
Employment: 6,260
Hourly Mean Wage: $26.98
Annual Mean Wage: $56,110
North Dakota is a haven for those looking to escape from the loud chaos of big city living. The Peace Garden State has an apt nickname, for it is indeed a serene setting. With a scant 646,844 people sharing an astonishing 70,762 square miles of land, North Dakota definitely leaves it residents with plenty of room to breathe and stretch their legs, which is undoubtedly an enticing perk for those weary of the overcrowded and congested lifestyles of major metropolitan areas. The state also is considered to have one of the most businesses friendly tax climates in the nation, making it that much more inviting for those looking for a fresh start.
Agriculture is by far the biggest industry in the Peace Garden State, providing the nation with its supply of barley, sunflower seeds, and wheat. No doubt that those who love to shelling and snacking on sunflower pods have North Dakota to thank for making that specialty item available in major grocery stores across the country. Energy is another big industry in the state, with coal mines still generating a majority of the energy used there. In addition to these industries, health care is also holding strong despite economic turmoil. Nursing opportunities are slim due to the sheer fact that there are not many residents to care for in the state, but they are available in the state's bigger population centers, such as Fargo and Bismarck. To become a registered nurse (RN) in North Dakota, one must obtain a diploma, associate, or bachelor's degree from an accredited nursing program. Then, prospective nurses must also successfully complete the NCLEX-RN examination to obtain a nursing license before they can begin professionally working. In addition, nurses are expected to provide fingerprint cards to the North Dakota Board of Nursing so that their criminal backgrounds may be checked.
School Name:Bismarck State College
Address:1500 Edwards Ave, Bismarck, North Dakota 58506-5587
Contact:(701) 224-5400
Website:www.bismarckstate.edu
Type of School:4-year, primarily associate's, Public
Programs Offered:Less than one year certificate;One but less than two years certificate;Associate's degree;Bachelor's degree
Student-to-faculty Ratio:19 to 1
School Name:Dakota College at Bottineau
Address:105 Simrall Blvd, Bottineau, North Dakota 58318-1159
Contact:(701) 228-2277
Website:www.dakotacollege.edu
Type of School:2-year, Public
Programs Offered:Less than one year certificate;One but less than two years certificate;Associate's degree;Two but less than 4 years certificate
Student-to-faculty Ratio:17 to 1
School Name:Dickinson State University
Address:291 Campus Drive, Dickinson, North Dakota 58601-4896
Contact:(701) 483-2507
Website:www.dickinsonstate.com
Type of School:4-year, Public
Programs Offered:Less than one year certificate;One but less than two years certificate;Associate's degree;Bachelor's degree
Student-to-faculty Ratio:16 to 1
School Name:Fort Berthold Community College
Address:220 8th Ave. N, New Town, North Dakota 58763
Contact:(701) 627-4738 x286
Website:www.fbcc.bia.edu
Type of School:2-year, Public
Programs Offered:Less than one year certificate;One but less than two years certificate;Associate's degree
Student-to-faculty Ratio:12 to 1
School Name:Jamestown College
Address:608 6th St NE, Jamestown, North Dakota 58405
Contact:(701) 252-3467
Website:www.jc.edu
Type of School:4-year, Private not-for-profit
Programs Offered:Bachelor's degree
Student-to-faculty Ratio:15 to 1
School Name:Lake Region State College
Address:1801 College Dr N, Devils Lake, North Dakota 58301-1598
Contact:(701) 662-1600
Website:www.lrsc.edu
Type of School:2-year, Public
Programs Offered:Less than one year certificate;One but less than two years certificate;Associate's degree
Student-to-faculty Ratio:27 to 1
School Name:Medcenter One College of Nursing
Address:512 N 7th St, Bismarck, North Dakota 58501-4425
Contact:(701) 323-6271
Website:www.medcenterone.com/collegeofnursing
Type of School:4-year, Private not-for-profit
Programs Offered:Bachelor's degree
Student-to-faculty Ratio:8 to 1
School Name:Minot State University
Address:500 University Ave W, Minot, North Dakota 58707
Contact:(701) 858-3000
Website:www.minotstateu.edu
Type of School:4-year, Public
Programs Offered:One but less than two years certificate;Associate's degree;Bachelor's degree;Master's degree;Post-master's certificate
Student-to-faculty Ratio:12 to 1
School Name:North Dakota State College of Science
Address:800 N 6th St, Wahpeton, North Dakota 58076
Contact:(701) 671-2403
Website:www.ndscs.edu
Type of School:2-year, Public
Programs Offered:Less than one year certificate;One but less than two years certificate;Associate's degree
Student-to-faculty Ratio:13 to 1
School Name:North Dakota State University-Main Campus
Address:1301 12th Avenue North, Fargo, North Dakota 58108-6050
Contact:(701) 231-8011
Website:www.ndsu.nodak.edu
Type of School:4-year, Public
Programs Offered:Less than one year certificate;Bachelor's degree;Postbaccalaureate certificate;Master's degree
Student-to-faculty Ratio:19 to 1
School Name:Rasmussen College-Fargo
Address:4012 19th Avenue SW, Fargo, North Dakota 58103-7196
Contact:(701) 277-3889
Website:www.rasmussen.edu
Type of School:4-year, primarily associate's, Private for-profit
Programs Offered:Less than one year certificate;One but less than two years certificate;Associate's degree;Bachelor's degree
Student-to-faculty Ratio:30 to 1
School Name:Sitting Bull College
Address:1341 92nd Street, Fort Yates, North Dakota 58538-9721
Contact:(701) 854-8000
Website:www.sittingbull.edu
Type of School:4-year, primarily associate's, Public
Programs Offered:Less than one year certificate;Associate's degree;Bachelor's degree
Student-to-faculty Ratio:9 to 1
School Name:Turtle Mountain Community College
Address:10145 BIA #7 North, Belcourt, North Dakota 58316
Contact:(701) 477-7862
Website:www.tm.edu
Type of School:4-year, primarily associate's, Private not-for-profit
Programs Offered:One but less than two years certificate;Associate's degree;Bachelor's degree
Student-to-faculty Ratio:16 to 1
School Name:United Tribes Technical College
Address:3315 University Dr, Bismarck, North Dakota 58504
Contact:(701) 255-3285 x1217
Website:unitedtribestech.com
Type of School:2-year, Private not-for-profit
Programs Offered:One but less than two years certificate;Associate's degree
Student-to-faculty Ratio:6 to 1
School Name:University of Mary
Address:7500 University Dr, Bismarck, North Dakota 58504
Contact:(701) 255-7500
Website:www.umary.edu
Type of School:4-year, Private not-for-profit
Programs Offered:Associate's degree;Bachelor's degree;Master's degree
Student-to-faculty Ratio:15 to 1
School Name:University of North Dakota
Address:University Station, Grand Forks, North Dakota 58202-8193
Contact:(800) 225-5863
Website:www.und.edu
Type of School:4-year, Public
Programs Offered:Less than one year certificate;One but less than two years certificate;Bachelor's degree;Postbaccalaureate certificate;Master's degree;Post-master's certificate
Student-to-faculty Ratio:21 to 1
School Name:Williston State College
Address:1410 University Ave, Williston, North Dakota 58801-1326
Contact:(701) 774-4200
Website:www.wsc.nodak.edu
Type of School:2-year, Public
Programs Offered:One but less than two years certificate;Associate's degree;Two but less than 4 years certificate
Student-to-faculty Ratio:15 to 1
Source: http://www.bls.gov/oes/