Featured Programs
Sponsored Schools
Nursing Career Info
Featured Article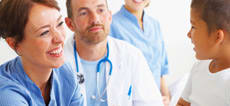 Demand for Nurses
Nurses may be the most in-demand health care position in the country.
Nursing Schools in Oregon
Featured Nursing College
Request Information
Sponsored Schools
Employment: 30,730
Hourly Mean Wage: $35.24
Annual Mean Wage: $73,300
Take a trip to Oregon and you'll see why its scenic views take many a breath away. Lush valleys, tree-topped mountains, craggy volcanoes, and urban skylines all mix to form a stunning hybrid of big city life and rural getaway. The local wineries, waterways that are a kayaker's haven, shopping districts, and famous museums all bring in droves of visitors every year. Residents living in Oregon enjoy the blend of urban and suburban living, as well as the moderate cost of living. Workers in the state earn about the average of workers in other states across the country, making the Beaver State an affordable and charming place to live.
The biggest industries in Oregon are agriculture and, surprisingly, wine production. The state's special soil and climate enable it to grow the same types of grapes as those used by wineries in France, producing exquisite domestic wines that are sure to please even the most sophisticated of palates. Hazelnuts are another big product of Oregon. In fact, more than 90% of the state's hazelnut supply comes right out of the hazelnut farms in the state. If it were not for Oregon, many delicious chocolate bars would be missing that distinctive hazelnut flavor that so many people crave. Also, though it does not receive the same celebratory status as the Beaver State's hazelnuts and wine, the health care industry is holding strong. Those looking to launch their nursing careers in Oregon will find the best employment opportunities in bigger cities like Portland as opposed to more rural areas. To become a registered nurse (RN) in Oregon, one must obtain a diploma, associate, or bachelor's degree from an accredited and approved nursing program. Then, prospective nurses must also successfully complete the NCLEX-RN examination to obtain a nursing license. Only then will they be allowed to legally practice.
School Name: Apollo College-Portland Inc
Address: 2004 Lloyd Center, 3rd Floor, Portland, Oregon 97232-1309
Contact: (503) 761-6100
Website: www.apollocollege.edu
Type of School: 2-year, Private for-profit
Programs Offered: One but less than two years certificate;Associate's degree
Student-to-faculty Ratio: 29 to 1
School Name: Blue Mountain Community College
Address: 2411 NW Carden Ave, Pendleton, Oregon 97801
Contact: (541) 276-1260
Website: www.bluecc.edu
Type of School: 2-year, Public
Programs Offered: Less than one year certificate;One but less than two years certificate;Associate's degree
Student-to-faculty Ratio: 14 to 1
School Name: Central Oregon Community College
Address: 2600 NW College Way, Bend, Oregon 97701
Contact: (541) 383-7500
Website: www.cocc.edu
Type of School: 2-year, Public
Programs Offered: Less than one year certificate;One but less than two years certificate;Associate's degree
Student-to-faculty Ratio: 23 to 1
School Name: Chemeketa Community College
Address: 4000 Lancaster Dr NE, Salem, Oregon 97305
Contact: (503) 399-5000
Website: www.chemeketa.edu
Type of School: 2-year, Public
Programs Offered: Less than one year certificate;One but less than two years certificate;Associate's degree;Two but less than 4 years certificate
Student-to-faculty Ratio: 20 to 1
School Name: Clackamas Community College
Address: 19600 Molalla Ave, Oregon City, Oregon 97045-8980
Contact: (503) 657-6958 x2313
Website: www.clackamas.edu
Type of School: 2-year, Public
Programs Offered: Less than one year certificate;One but less than two years certificate;Associate's degree
Student-to-faculty Ratio: 14 to 1
School Name: Clatsop Community College
Address: 1653 Jerome Ave, Astoria, Oregon 97103
Contact: (503) 325-0910
Website: www.clatsopcc.edu
Type of School: 2-year, Public
Programs Offered: Less than one year certificate;One but less than two years certificate;Associate's degree
Student-to-faculty Ratio: 11 to 1
School Name: Columbia Gorge Community College
Address: 400 E Scenic Dr, The Dalles, Oregon 97058
Contact: (541) 506-6000
Website: www.cgcc.cc.or.us
Type of School: 2-year, Public
Programs Offered: Less than one year certificate;One but less than two years certificate;Associate's degree
Student-to-faculty Ratio: 10 to 1
School Name: Concorde Career Institute
Address: 1425 NE Irving Street, Bldg 300, Portland, Oregon 97232
Contact: (503) 281-4181
Website: www.concorde.edu
Type of School: 2-year, Private for-profit
Programs Offered: Less than one year certificate;One but less than two years certificate;Associate's degree
Student-to-faculty Ratio: 18 to 1
School Name: Concordia University
Address: 2811 NE Holman Street, Portland, Oregon 97211-6099
Contact: (503) 288-9371
Website: www.cu-portland.edu
Type of School: 4-year, Private not-for-profit
Programs Offered: Associate's degree;Bachelor's degree;Postbaccalaureate certificate;Master's degree
Student-to-faculty Ratio: 16 to 1
School Name: George Fox University
Address: 414 N Meridian St, Newberg, Oregon 97132
Contact: (503) 538-8383
Website: www.georgefox.edu
Type of School: 4-year, Private not-for-profit
Programs Offered: Bachelor's degree;Postbaccalaureate certificate;Master's degree;Post-master's certificate
Student-to-faculty Ratio: 12 to 1
School Name: Klamath Community College
Address: 7390 South Sixth Street, Klamath Falls, Oregon 97603-7121
Contact: (541) 882-3521
Website: www.klamathcc.edu
Type of School: 2-year, Public
Programs Offered: Less than one year certificate;One but less than two years certificate;Associate's degree
Student-to-faculty Ratio: 13 to 1
School Name: Lane Community College
Address: 4000 E 30th Ave, Eugene, Oregon 97405-0640
Contact: (541) 463-3000
Website: www.Lanecc.edu
Type of School: 2-year, Public
Programs Offered: Less than one year certificate;One but less than two years certificate;Associate's degree;Two but less than 4 years certificate
Student-to-faculty Ratio: 21 to 1
School Name: Linfield College-Adult Degree Program
Address: 900 SE Baker Street, McMinnville, Oregon 97128-6894
Contact: (503) 883-2447
Website: www.linfield.edu/dce/
Type of School: 4-year, Private not-for-profit
Programs Offered: Less than one year certificate;Bachelor's degree;Postbaccalaureate certificate
Student-to-faculty Ratio: 14 to 1
School Name: Linfield College-Portland Campus
Address: 2215 NW Northrup St, Portland, Oregon 97210-2932
Contact: (503) 413-7161
Website: www.linfield.edu/portland/
Type of School: 4-year, Private not-for-profit
Programs Offered: Bachelor's degree
Student-to-faculty Ratio: 8 to 1
School Name: Linn-Benton Community College
Address: 6500 Pacific Blvd SW, Albany, Oregon 97321
Contact: (541) 917-4999
Website: www.linnbenton.edu
Type of School: 2-year, Public
Programs Offered: Less than one year certificate;One but less than two years certificate;Associate's degree
Student-to-faculty Ratio: 14 to 1
School Name: Mt Hood Community College
Address: 26000 SE Stark St, Gresham, Oregon 97030
Contact: (503) 491-6422
Website: www.mhcc.edu
Type of School: 2-year, Public
Programs Offered: Less than one year certificate;One but less than two years certificate;Associate's degree
Student-to-faculty Ratio: 17 to 1
School Name: Oregon Coast Community College
Address: 400 SE College Way, Newport, Oregon 97366
Contact: (541) 265-2283
Website: www.occc.cc.or.us
Type of School: 2-year, Public
Programs Offered: One but less than two years certificate;Associate's degree
Student-to-faculty Ratio: 11 to 1
School Name: Oregon Health & Science University
Address: 3181 SW Sam Jackson Park Rd, Portland, Oregon 97239-3098
Contact: (503) 494-7800
Website: www.ohsu.edu
Type of School: 4-year, Public
Programs Offered: Bachelor's degree;Postbaccalaureate certificate;Master's degree;Post-master's certificate
Student-to-faculty Ratio: 1 to 1
School Name: Pioneer Pacific College
Address: 27501 SW Parkway Ave, Wilsonville, Oregon 97070-9296
Contact: (503) 682-3903
Website: www.pioneerpacific.edu
Type of School: 4-year, primarily associate's, Private for-profit
Programs Offered: Less than one year certificate;One but less than two years certificate;Associate's degree;Bachelor's degree
Student-to-faculty Ratio: 10 to 1
School Name: Portland Community College
Address: 12000 SW 49th Avenue, Portland, Oregon 97219-7132
Contact: (503) 244-6111
Website: www.pcc.edu
Type of School: 2-year, Public
Programs Offered: Less than one year certificate;One but less than two years certificate;Associate's degree;Two but less than 4 years certificate
Student-to-faculty Ratio: 19 to 1
School Name: Rogue Community College
Address: 3345 Redwood Hwy, Grants Pass, Oregon 97527-9291
Contact: (541) 956-7501
Website: www.roguecc.edu
Type of School: 2-year, Public
Programs Offered: Less than one year certificate;One but less than two years certificate;Associate's degree
Student-to-faculty Ratio: 12 to 1
School Name: Southwestern Oregon Community College
Address: 1988 Newmark Ave, Coos Bay, Oregon 97420-2193
Contact: (541) 888-2525
Website: www.socc.edu
Type of School: 2-year, Public
Programs Offered: Less than one year certificate;One but less than two years certificate;Associate's degree
Student-to-faculty Ratio: 12 to 1
School Name: Treasure Valley Community College
Address: 650 College Blvd, Ontario, Oregon 97914
Contact: (541) 881-8822
Website: www.tvcc.cc
Type of School: 2-year, Public
Programs Offered: One but less than two years certificate;Associate's degree;Two but less than 4 years certificate
Student-to-faculty Ratio: 18 to 1
School Name: Umpqua Community College
Address: 1140 College Rd., Roseburg, Oregon 97470-0226
Contact: (541) 440-4600
Website: www.umpqua.edu/
Type of School: 2-year, Public
Programs Offered: Less than one year certificate;One but less than two years certificate;Associate's degree
Student-to-faculty Ratio: 14 to 1
School Name: University of Portland
Address: 5000 N Willamette Blvd, Portland, Oregon 97203-5798
Contact: (503) 943-7911
Website: www.up.edu
Type of School: 4-year, Private not-for-profit
Programs Offered: Bachelor's degree;Master's degree
Student-to-faculty Ratio: 13 to 1
School Name: Valley Medical College
Address: 4707 Silverton Road NE, Salem, Oregon 97305
Contact: (503) 363-9001
Website: valleymedicalcollege.com
Type of School: < 2-year, Private for-profit
Programs Offered: Less than one year certificate;One but less than two years certificate
Student-to-faculty Ratio: 13 to 1
Source: http://www.bls.gov/oes/